CarboKill
wrote
:
Rina-San
wrote
:
Alright alright calm down Jafar
Don't be hatin' on us disney villains.
We're pretty badass.
You're telling me, I couldn't kill you for shit on Kingdom Hearts 2 you jammy bastard
Spoiler Alert! Click to show or hide
Oh aye. I remember beating you god knows how many times in a row.
Rina-San
wrote
:
CarboKill
wrote
:
Spoiler Alert! Click to show or hide
Oh aye. I remember beating you god knows how many times in a row.
Sephiroth was easier than you! LOL :P
Pfft. Well, y'know. He's a pussy compared to me. His theme was originally made for me, but I let him have it because it wasn't epic enough for me
I see ghosts.
End of story.
When I was small, me and my siblings used to live in an old house. For some reason, there were a lot of unexplained happenings that i've realised. Doors slamming, thumping noises, person like figures in the darkness, waking up in different parts of the house and so much more. My most memorable one, when I suddenly woke up. I didn't feel tired, I didn't think anything nor could I control myself. I found myself walking outside of my bedroom and sitting down close to the the top of the stairs. I peeked through the guard rails, through into the living room, my eyes adjusted to the darkness. I saw a small young child dancing in the middle of the room staring at the portrait of a ballerina dancer that hanged from the wall. I stared with no expression on my face. The only thing ringing through my head at the time "Please don't turn around and look at me". That's all I can remember. Lol

I'm just happy that I don't live in that house anymore. I do feel like visiting it and asking the current vacant people whether they've felt the same thing in the future.
bastet666
on a few occasions my mom has seen a dark figure standing at the end of her bed. then she turned on her lights and no one was there. and once she saw a cloud of lights floating over her bed. there's a bunch of stuff that happened to other relatives to. theres a dead cowboy that apparently walks the halls of my nana and pepere's house. my aunts boyfriend has been in several life threatening accidents and now sees and talks to ghosts. but nothings really happened to me, or at least nothing i couldn't try to pin on something else. i went to a friends house, which she said was haunted. the picture on the mantle fell over and we saw ripples in the water like someone had just jumped in there. but nothing really spooky has happened to me and id prefer to keep it that way. in fact I'd prefer to stay away from all scary movies and for no one to tell me anymore scary/creepy stories. I want to hold onto what ever doubt i have left until the day i die. the world seems less scary if i can still be a bit skeptical about this stuff.

and isn't it creepy when your pet stares intently at absolutely nothing? or even worse, stares at nothing or the wall and starts to growl. which is usually followed by me pissing my pants.

dam, why did i even come into this forum? im creeping myself out. i'm not going to be able to sleep tonight :'( can you believe I'm turning 25 next month? lol
bastet666
chains
wrote
:
this is a personal experience
when i was around 7 yrs old i lived in Edmonton ab and sometimes i think about once a month i and my siblings would stay at kids cottage
i was kinda weird unlike a lot of children my age i wasn't scared of the closet or under my bed in fact i actually grabbed a pillow and blanket and slept in those places don't know why i just felt comfortable OK so back to kids cottage one of the times we were staying there i decided to sleep under the crib but it just didn't feel comfortable so when i was about get up something grabbed my leg and started pulling i looked around to see what it was and all i could see was the vent this thing still had hold of me so i grabbed on to one of the legs on the crib pulled my self away i can honestly say i was scared out of my mind and that was the first and last time i ever went under a crib i still slept under the bed and in the closet until i was 14 yrs old
sorry it wasn't the greatest story it was the only experience i could remember at the moment ill post more as i remember
seems pretty scary to me so i bet you were really scared when you were that young. I used to like going under my bed to. nothing supernatural happened. i had a dream, or i think it was a dream. it seemed pretty dam real to me. I dreamed that a giant 'daddy long legs' spider, bigger than a cat, ran under my bed. since i get really freaked out by spiders i never went under there again.
dam, i just looked up the spider to find another name for it but i saw a picture of it and got really creeped out so i had to close the page. i got shivers down my back and everything.
Queen Moderator
LainZero
I use to do security at a concert venue here.
Now, they run ghost tours when there aren't concerts happening, but I never bought the crap.
Basement has always creeped me out
It's an ooooold Army Reserves (I think) place, they had prisons, a shooting range, sergeants quarters, all sorts of neat stuff down there, but it's where our version of "Back stage" was.
We've had bands like Korn, Disturbed, Flogging Molly, etc.

ANNNYWAYS, let me describe it

LONG hallway downstairs, with tons of jail cells, and random rooms off it, the first 3 are the back stage rooms, all well lit, then lighting is few and far between, theres a big empty room at the VERY end, like, the door is straight with the hallway, not off to the side.

Sitting there, alone, look up, light is on in the room...
At this point my thoughts are, what the hell, I didn't turn that on and I'm alone down here.. There's another exit to that spot but it's always chained & locked....
I grab my flashlight and unsnap my mace pouch ...you know...just incase...
So I'm walking down, the further I walk the more uneasy I feel.
Door shuts when I'm 20 ft away from it.
I swear to god my body had never froze the way it did right then, every nerve in my body felt chilled and I was truly scared, although I didn't understand why. I never have (and still kinda dont) believe in ghosts. I'm also not the type to frighten easy.
I just stared at the door...
I turned to check behind me, nothing/nobody was there, the headlining act was on stage and I could still hear them playing.
Reach out to check the door. Locked...
Kay, whew, it must have just swung shut no biggie right? walk away.
Sit down.
Look up.
Door is open
Thought process: holy hell! FML I'm getting the hell out of this basement.
Sat AT the bottom of the stairs rest of the night, staring at the door (which actually closed again when I was moving)
Asked other people about it at the end of the night.
Nobody was down there, and the exit from it was indeed locked...



Still don't know HOW to describe it to myself to make myself believe it wasnt a ghost, but honestly, creeped me the hell out.
I've never felt a chill to my bones of fear like that before, and honestly, I never again want to.



Edit : eh what the hell I don't work there anymore so it's not like anyone can find out my name since it's a new security company working it now :P
Name of the venue : Main Street Armory.
There have been investigations there too into ghosts or whatever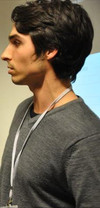 Spoiler Alert! Click to show or hide
I would feel pretty nervous and scared as well if that happened to me. I don't believe in ghosts, and I'm generally a pretty big risk-taker, thrill-seeking, brave type of guy. But it's hard to keep your cool when you've been conditioned from a young age to be afraid of "spooky" things like doors closing by themselves and strange unexplainable noises.
I kind of wish I could meet a ghost and ask them a whole bunch of questions about the Universe.
I'm always looking for logical explanations for things like this. I hope it was just the wind or difference in barometric pressure inside the rooms that caused the door to shut and open by itself.
It happens quite a bit in my house, especially this summer with my windows open. Doors slam out of nowhere.
Or maybe my house is haunted and I just don't care to notice. Hope it's an attractive lady ghost though.
Queen Moderator
LainZero
Spoiler Alert! Click to show or hide
That's actually how I tried to reason it in my head...except, when I tried to open it, it was secured shut and locked.... then once I sat back down, wide open with the light back on :/ I want to believe someone was down there doing maintenance...but I know there wasn't ;-;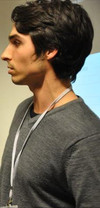 MikiSayaka
wrote
:
That's actually how I tried to reason it in my head...except, when I tried to open it, it was secured shut and locked.... then once I sat back down, wide open with the light back on :/ I want to believe someone was down there doing maintenance...but I know there wasn't ;-;
This would be the most insanely suspenseful feeling but...imagine going into the room once it opened up again, closing it, sitting in the middle of the room, turning the lights off and then going...
"hey, you there?"
So this one time, I was in the bathroom, and my towel was on the sink, I turned around to turn the fan on, and wow, when I faced the sink, unbelievable, the towel was on the flloor! So scary!
Share ghost stories huh? Alright which should I tell about, Colonel Sanders or Shadow Figure? I suppose I shall say both.

Lets start off with shadow figure. Okay, me and my friends used to play this game called "Darkness" It's pretty much hide n seek, but in a dark apparetment, and when I say dark, I mean DARK. I was over at my friend Chris' house and it was me, him and my brother playing. My friend Chris was moving out so his fridge wasn't there anymore, so I was hiding there. My brother was it and looking for me under the dining room table and Chris was laying up in his bunk bed. There is a little walk way about the size of just a single person to the kitchen from the living room, if you don't want to go through the dining room to get in the kitchen. Anyways, normally you can see Chris's light on the TV saying it is off, from the position I was hiding at. Where I was hiding you can see directly down the walk way and Chris's TV. Well all of a sudden the light indicating the TV was on got blocked out by something. I focused my eyes and I saw an outline of a person walking towards me. All I saw was darkness though. It walked within 5 feet of me and just stared at me. I curled up in the corner and tried not to look, but for some reason I did. There was no face or anything, just pure shadow. After staring at me for a few moments it turned around and started to walk away, vanishing after a few seconds and no longer obstructing the view of the TV. After that I said I was done and ran out of his appartment. I've never been back inside since.... but that is probably because he moved X3

Okay Colonel Sanders time,
I tend to stay at my brothers place a lot which is right next to my friends Chris's old place. Well for a while I would have to sleep in the living room on the couch because I had no where to sleep. Well when i would look into the dining room, I would see a man sitting in one of the chairs in our dining room just staring out of the window. He is wearing all white and has the Colonel Sanders beard. He never turns to look around but he is always sitting there at night. My brother has seen him as well and when we talked about it, we came up with the name Colonel Sanders because he looks like him. I feel VERY uncomfortable sleeping in the living room because when I close my eyes or turn my back I can feel someone standing over at me, just watching me sleep. I hear things that keep me up all night like the TV popping or the fridge popping, things moving in the kitchen. That kind of stuff. I don't seem to fall asleep until around 5-6 am when the sun is coming up because I feel so uncomfortable sleeping there. I also hear people talking when no one is there and I keep getting the image of the Air Conditioner falling on my head when I close my eyes. The Air conditioner is right above where I sleep. I don't know it's just very creepy to sleep in the living room. Everywhere else in the apartment is fine though.
Perhaps this has something to do with my computer but I nearly piss my pants every time this happens.
My computer is set up on a desk next to my bed, since my bed is large and that corner is the only one my computer desk fits.
When I get off the computer to go to bed I put my computer on "sleep" - when I want to awaken my computer a click of the mouse or press of a key on the keyboard does the job, otherwise it stays asleep.
Several times late at night when I've gotten into bed, generally within the next hour or two, suddenly the blue back light in my case will turn on, I can hear the fan and my computer starting up, then the screen turns back on as if I awoke it from sleep mode.
But, obviously, I'm in bed - far away from the keyboard or mouse. It freaks the crap out of me when it happens since the fan is so loud and it suddenly starts up when it's pitch black and quiet.