um, i dont think there are any that i fit into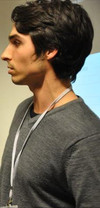 I'm mostly a science geek.

Also a book and movie geek.
What kind eh? Well mostly books and computers than anything else as far as geeky goes I think.
I'm a school nerd, the type that aces tests, exams, projects and such in a consistent manner.
i_love_u_jesus
Video games and anime, I guess.
Noone is more of a Hentai nerd than I am.
I read the whole thing. I'll answer you honestly. Hah. Here:

1. Music Geek
2. The Video Gamer
3. The Comic Geek (Can I add Manga(s) and Books?)
4. The Sci-Fi Geek
Artistic geek with cosplay tendencies
Out of the ones on the list, I'm a sci-fi geek. I love sci-fi and fantasy more than I should.

A lot of people on here seem to consider themselves book geeks. I hope no one's referring to those vampire teen romances that are so popular right now. Hurray for good literature though!

I'm also a chemistry geek - hopefully I'll get to study it at uni in September.
Guys, just because you like/love something, doesn't mean you're a geek/nerd...
Computer, Anime and Video Game Nerd
Ima play games all day kinda nerd!
Janne24
wow best game ever yeaaaahhhhhhh