prettycaty
wrote
:
oooooooooooooooook
for Ren: I recommand MatsuJun, I know he is not the right hight but,,he CAN CERTAINLY pull Ren off
I mean his acting is good! and besides there are mistakes done in dramas anyway so it won't realy hurt that much if he's not thaaaaat tall,
would it?:phew:
For Shou: I recommand Shun
oooooooook I know for AFACT that Oguri is taller the Matsu...that'd be hilarious LOL but it's not time to be amused right ?
ahem anyway..and as for Kyoko: wellll there is Aya and there is the actress of Hana Yori Dango, she is a good one :)
jessinham
wrote
:
Honestly guys, I don't see any other actor to portrait Ren except for
Shirota Yuu
. He not only has the exact looks(being half japanese, half spanish) but also facial expressions that, in my opnion, match Ren/Kuon. Some people said Ren had to be older, but don't forget 20 years old is not THAT old(Shirota himself is older than that) and Ren is supposed to be fcking HOT (something that Yuu definetely is, in terms of face, body...*drools*). If they ever make a drama and only choose pop actors, instead of considering these details, they won't be able to get the story at all.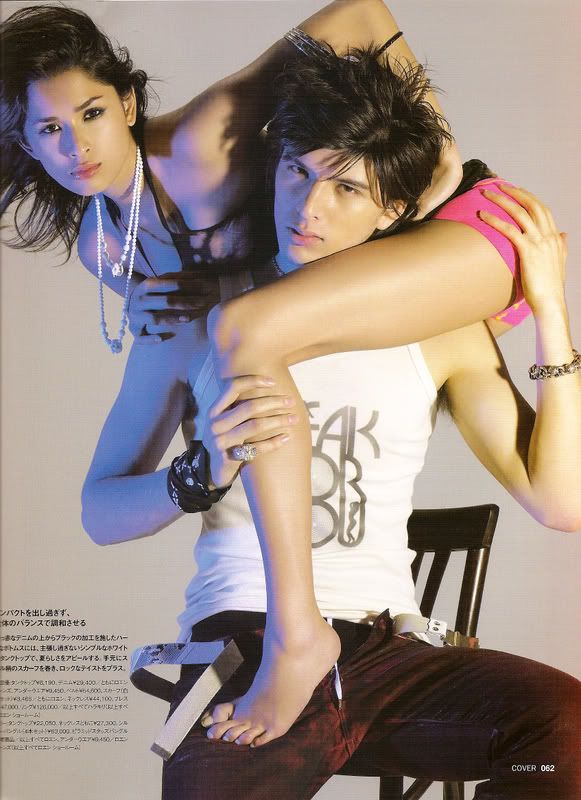 http://fc01.deviantart.net/fs21/f/2007/290/1/b/Shirota_Yuu_Walpaper_5_by_shi_chan94.jpg
Talk about hotness...
About Sho, I think Matsumoto Jun would really make a good one, but well, I guess he's got some height problems. Still his style matches Sho soooo much. He also made many people bite their tongues when they said he couldn't portrait Tsukasa in Hana yori dango, he was very funny and cool in this hole and gave a totally Tsukasa feeling. So I dunno: style, yes, height no ><'
For Shun, no way, he looks too old in my opnion, sho has some "annoying boy" feeling.
Kyoko no idea, she has to look sweet but be able to get dark and determined. I haven't seen an actress that would give that feeling yet. Mao looks a good actress, but somehow I can't imagine her very much, I may be wrong though.
i agree with what both of you said regarding
matsujun
:D. he could be an
awesome ren
if it wasn't for his height
. i mean, he really is a great actor and model which is basically what ren is, right? he would just use the same trick as he did in hana yori and all his dramas: his strong and convincing acting skills!! ahh and i can't wait to see him smile like ren (thet evil pure smile XD)
it would also be really interesting if
matsujun
would play
sho
. he looks really good with any kind of hairstyle and jun with blonde hair is just HOT!! plus, he can really sing and it would be fun seeing him wearing sho's style of clothing
well, the biggest challenge for him in acting this role is whether he could make us hate him or be annoyed by him (his role is sho after all)
i agree with oguri shun not be able to portray sho's role. he's a good actor but sho's role is just not really suitable for him. plus, he's too tall :D.
as for considering other actors, i choose kenichi matsuyama as another option for ren. his acting is also really convincing and he also has the height, don't you think? plus, he's really hot :D
and as for another option for sho, ikuta toma would be great. his look in hana kimi would be appropriate for the role of sho. he can sing and the playboy image suits him very well. plus ikuta's style as junpei (in hana yori dango, when he was posing for a magazine) really fits sho's image :D
and as for the heroine:
KYOKO!!
it's really hard to find someone that fits her role. she's very unique. but would you consider
erika sawajiri
on the list?? she really has amazing acting skills. she can play the innocent long haired kyoko just like her role in taiyou no uta and one liter of tears . i believe that she could also pull off kyoko's lively transformation and dark aura. she looks really pretty with short blonde hair. so. what do you think??