Yes
i have dolly eyes. Mine are big, haha.
Happencheese
Yeah, I do
My wife really likes them, they're big, and green
Sadly I do not like my eyes by themselves; dark brown and boring. However; they do go quite well with my face at least most of my ex's and a few almost's thought so... thus, in that respect yes I guess I really do like them.
do i like them? yes, b/c its me [as lame as that sounds] but no.
why? b/c they aren't a definite color.. hazel is just anything between brown yellow and blue u.u
if i could change them? i don't think so. they will stay as they are u.u
No,i would like mine to have laser vision.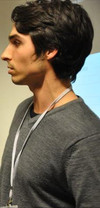 I like my eyes - I think gray eyes can alternate between mysterious, dark, stormy, and intense. My eyes really help me convey my mood and state of mind. When I'm happy my eyes will look like a calm, cold North Pacific Ocean, when I'm angry they'll become icy stone.