shishiz
wrote
: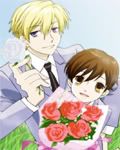 I'm not sure who's the real couple here.
[But I'm 99.99 % sure that Hatori-sensei is obviously going to end the manga with Haruhi ending up with Tamaki]
Whatever. Neither of those two didn't kiss.
Yes they diiiiid~
Well. Not in the anime. And not in the way anyone expected.
Sousuke and Chidori
make for one of the hottest straight couples ever. They've never kissed, but there should be loads of fanart out there by now.
Except for Aya's first one with Nagi, hardly anyone in
Tenjou Tenge
kisses. Or maybe I'm just watching the wrong episodes. A lot of the time they're just doing it on tables or groping; guess kissing's too personal or something.
I would've loved for some heated kiss between
Shin and Maya
, though, the fuck cares that it's twisted.
Harima and Tenma
never got around to kissing. Neither, for that matter, did Harima and Eiri, or Harima and Yakumo.
Come to think of it, I guess a lot of those short romantic comedies of either the shounen or shoujo genre actually kiss; most of the anime is usually spent just getting their damn confessions out.
Gatekeepers
, on the other hand, ended right when Ruri and Shin run into each other and are just about to kiss. (I remember being
very
frustrated when they stopped
right. then!
)