Leeluz
wrote:
I have 2 and I like them when they sleep .
molesting them while they're asleep o0?
I'm the oldest. I guess it's not really that bad =\ Sometimes they are annoying though. Cry too much , complain , and stuff like that. *sigh*
hving brothers are obstacles in my life but having sisters are not cuz i like my sisters
KinkyHamster
wrote:
Leeluz
wrote:
I have 2 and I like them when they sleep .
molesting them while they're asleep o0?
do you always think in a bad way .

no I don't .

what I mean that when they not sleep they a bit annoying.
I have five. And not a single one is particularly fun.
Though the ones who can drive are cool.
i have a bro and a sis it's really cool
Me and my brother are really close. We do fight sometimes, of course, but mostly we're really good friends.
Never really been that close with my brother until this year. We often fought back when we were younger(but what kind of siblings don't? haha), then one day, we stopped having conversations with one another. But being close with my bro now isn't all that bad. Hearing all these crazy shit stories from him is kind of interesting.

I wish I had an older sister though... or a younger bro. Someone I can look up to, and someone I can look after
I'm kind of used to it. I do hate my little brother sometimes. We always fight the most. I guess its because I've known him longer than my other two siblings, and had to deal with his nonsense for years to come.

My parents are divorced, and I have a step brother that's a year older than me. So I'm the second oldest, but I live mostly with my Mom, so I consider myself the oldest still. Even with my step brother, I'd say I'm the oldest. σ_σ Seemingly more mature than he is.

But it is quite a handful, because most responsibilities are strewn on me. I guess I don't mind. Looking after my 3 year old little sister, and babysitting my 11 year old little brother (And occasionally my 16 year old step brother... Idiot.)

I do love all of them, though, despite the fact that my little sister is the devils spawn, and the other two brothers are just idiots. I have had some good times with them. ♥
I have a Brother and a sister here. Both are pain in the asses but i love them to death.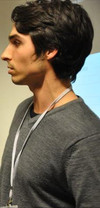 I already have brothers and sisters. We're all pretty different, but we get along fine. There's the occasional fight and argument but we make up fast.
I have a HUGE fat ass sister. We used to fight before, now I just make fun of her flab and win.
jer5500
i have 7 of them three half sisters, 4 half brothers and they are all older than me. and to get a kick of it i have nephews whose sons are my age or almost my age.
Art-chan
I'm the oldest. I have a brother. He has his uses. (Opening those blasted hard-to-open jars!
). I have my uses (I keep him up-to-date on significant Anime news). We drive each other nuts--pretty typical actually. I get along with my brother better than my parents--probably because we're only 2 years apart.
My
Sister
is the extension of my Life. Never imagined how's life if she's not around. Pretty much do things together and face challenges together