michana
wrote
:
Hey guys! With all the blowouts going on, I hope you are had the chance to catch up with all your favorite shows!
And with that, we're going to keep on going with another anime blow out!
We launched
ALL
of
Pretty Cure
TODAY,
May 7th at 1pm
PDT. Never seen it before? Well, to me, this show and its characters are similar to one of my favorites shows,
Shugo Chara
, as the protagonists ward off evil. Did you think you have to be tough to be a fighter? Think again! Honoka is the timid one in
Pretty Cure
and we'll see how she handles being Cure White.
Here's a brief synopsis:
Nagisa Misumi and Honoka Yukishiro are night and day. Nagisa is athletic and Honoka the quiet, reserved one. While they attend the same school, they have very little in common until one day, a shower of shooting stars brings two very unlikely visitors into their lives: Mipple and Mepple, refugees from the Garden of Light, which has been conquered by Darkness. Together, Nagisa and Honoka become Cure Black and Cure White, magical defenders of the light. They are
Pretty Cure
!
Check it out and lemme know who you relate with more, Cure Black or Cure White?
(don't mess with them!)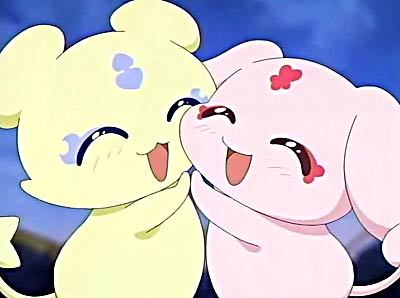 (mepple and mipple) ahhh, aren't they cute?
it so kool i got about 2 sticker of pretty cure