Friend: Are you stupid
Me: No bro I'm on America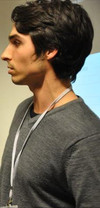 "I'll take a rum and cocaine."
- mental slip while ordering a drink at a bar
NoBreyner
People ask me if I'm ready to go, and I respond with

I'm not waiting for me.

I have a habit at work of being ready and if someone tells me we're going here in two minutes I'll be there waiting for them. Ten minutes later they ask "you ready" and I drop my response.
"never say it could be worse. because then it gets worse."
Quarlo
I used to be apathetic about ________, but now I just don't care.
1mirg
"I just want to do what I love, I do not care about money"
NoBreyner
I know, I know misery loves company, unfortunately my name isn't misery.
mesomuffin
"Violets are red, roses are blue... wait."
"Never jack off more then 11 times in a single morning....don't do it, I know it's tempting, but don't."
hush184
I have no idea what this was SUPPOSED to mean but my cousin and I flung it around a bit in the childhood days.
"Watch the roach before the roach watches you."

This one was the result of a poetry assignment in high school.
"Keep pressing on as the heartache comes"
"Drunk people are people too."
theYchromosome
To my neighbor -- "I'm going to counter-train your puppy. Every time it takes a shit outside, I'm going to yell 'NO' so it thinks it's doing something wrong. Either I will confuse the shit out of it, or it will start thinking that the word 'no' is actually meaningless, and humans just like yelling things at their pets."
"I see now that you already have your answer. No matter what happens, as you must already know, you should follow this gut feeling you have and pursue what you want, if you don't, you'll end up regretting it. Since that is what you truly want - screw what anyone else expects for you to choose and go for it".

"The fear of death is a basic human impulse, denying it is like denying your own humanity". Someone most likely beat me to the punch on that one, but I did say that once without thinking much about it.

"When the sweat is running down my neck and temple, when I work so hard I'm almost in pain, then and only then am I satisfied and cannot be in shame..."

"The silence and whirling of thougths is so deafening I feel like I'm losing the last bit of sanity I have left".