you should watch the silent and short movie boy meets boy
Kim Hye Sung as Min Soo and Lee Hyun Jin as Seok Yi,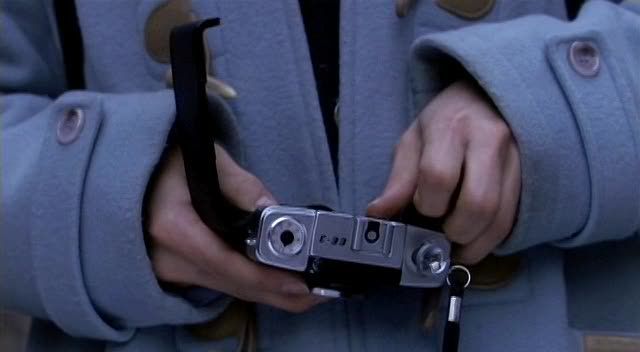 Min Soo, adorable in a powder blue coat, is changing film in his (surprisingly) old-school camera. Uh, this must have been before they had digicams, I guess. Also this is in some bizarre universe where there are no coat sizes small enough for Min Soo's delicate frame, but I digress.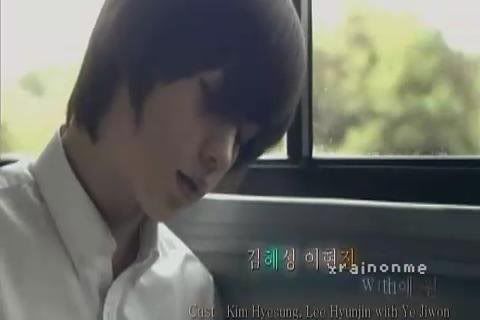 Unfortunately, he drops the roll of film (understandable, as none of us have three hands – and if you do, I don't want to know) and it patters down a set of stairs to the feet of a waiting bully.
Uh-oh.
Switch scenes to spring, with Min Soo studying on the bus. As he puts his things away, his roll of film, once again, betrays him by rolling away. (Huh. Inanimate objects trying to matchmake their owner.)
The roll of film lurches back and forth, tantalizingly in reach but then disappearing the moment Min Soo tries to catch it (unsubtle metaphor about love, check).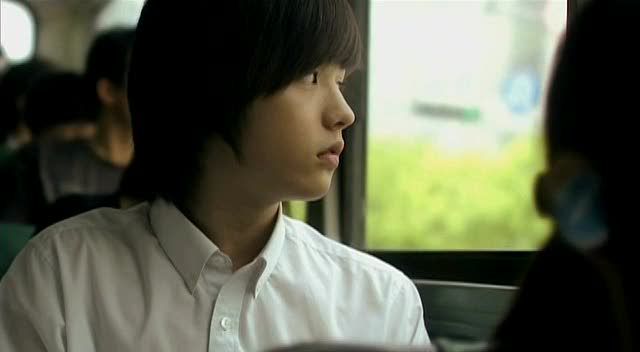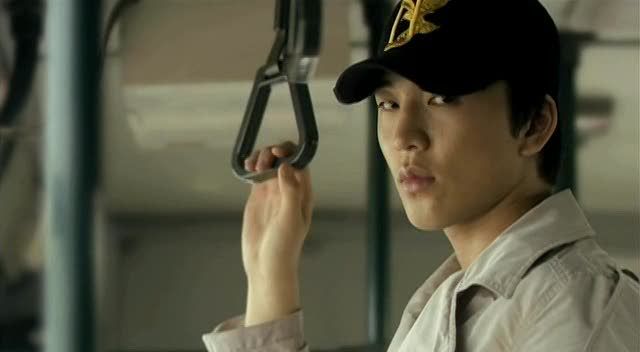 It rolls back to hit the foot of a commuter. (I bet if it had a tongue, it would be sticking it out at poor Min Soo.)
Min Soo decides that enough is enough, that no inanimate object is going to get the better of him, and so he looks up at the bus passenger standing next to his roll of film to ask for assistance. Because, you know, normal people help each other out all the time.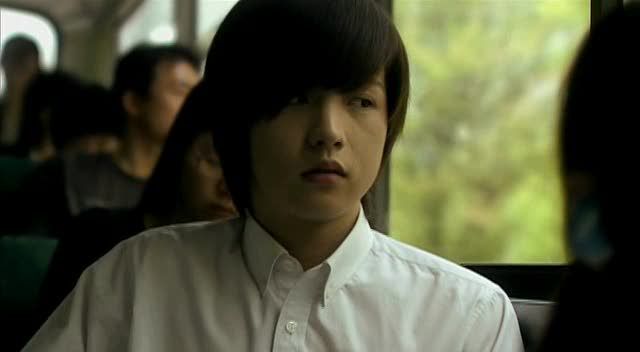 And – TO ARMS, IT'S A HOT GUY! WHO LOOKS BACK AT MIN SOO!
Min Soo gulps, and looks out the window. His roll of film can now go to hell.
Well, Hot Guy is still staring.
Min Soo decides that he really needs this roll of film after all, and gets up. But then Hot Guy (Seok Yi) bends down, retrieving the film, and once again Min Soo chickens out.
Babe, you'll never get any dates acting like that.
The inner struggle is clear. Everyone can tell Min Soo is secretly wailing inside, "But the film! It's still with That Hot Guy!"
THAT'S RIGHT, YOU CAN DO IT!
Huh. Does that work on all the girls? *is not impressed*
In any case, it seems enough to make Min Soo break out in Fangirl-itis. Someone needs to be protected from his own cuteness.
PSA of the day: DO NOT, I repeat, DO NOT throw yourself into the arms of the first guy who smiles at you. He is most likely a creep, a pedophile, after your money or not actually smiling at you. (Or, ten months into a relationship, you'll find out that you both have terminal cancers and are siblings.)
Min Soo thinks Seok Yi's just handing over a roll of film, but we know it's practically a proposal in symbolic terms. Yay for indie movies redolent with ~deepness~ and ~real-life portrayals~.
Aaaaaaaand, right on cue, the Fairy makes an appearance. Her baton gives me indigestion, so I'll move on quickly. (She prances and sings, but it's not that important, unless you like watching your movies on acid, in which case, um, go ahead.)
The spell's broken rather quickly, however, and the two retreat to their respective spots on opposite ends of the bus.
Still, that doesn't prevent them from looking yearningly at each other. (SERIOUSLY, JUST SNOG ALREADY.)
Min Soo has to get off the bus, but he darts a quick, furtive look to see if Seok Yi notices. And the UST is so thick you could cut it in slices and serve it for an hors d'oeuvre.
As Min Soo gets off the bus and walks home, he seems very interested in who's walking behind him, but at the same time refrains from looking back. It's all very coy and high school, I must say.
He can hear the steps behind him, and for the briefest moment Min Soo breaks into a radiant smile.
(ME: AWWW, DOESN'T HE MAKE YOU WANNA SQUEEZE HIS CHEEKS? SO PRECIOUS.)
But when he turns around, there's no one.
OH GOD HE IS SO CUTE. EVEN WHEN HE IS DEJECTED, AND LOOK, HE'S POUTING.
Haha, Min Soo is such a freaking girl. I say that as someone who has been through the same thing (and seen many friends fall into its hellish maw), but god. He just has to turn around and check one more time.
Which means, of course, that he ends up bumping into who he was looking for the entire time.
(I shall ponder about Seok Yi's apparent talents for teleportation for later.)
The LSD Fairy, she is back.
LIKE, I AM NOT KIDDING. ALL SCENES WITH THE FAIRY ARE MADE OF OMGWTFBBQ.
SEE??
So she sings for a bit about how meeting guys on the street is dangerous, but you should go for it! Or something. As a message, I feel it lacks punch.
This scene is MADE of awkward. Good job, PD.
He returns the camera. How nice.
Except, you know, flashback to winter reveals that he has the camera because he was part of a gang that tried to beat Min Soo up. They don't succeed because Min Soo is good at running away, but still. (EPIC FAIL, SEOK YI. PIGTAIL PULLING WENT OUT WITH THE 3RD GRADE. NOWADAYS GIRLS LIKE SOCIOPATHIC LEVELS OF PROTECTION AND STALKING.)
Min Soo managed to run away to a public street, with lots of bystanders.
Presumably he escaped, though not before exchanging some UST glances of disappointment and surprise with Seok Yi.
Aww. At least he's trying.
Min Soo doesn't show much of a reaction, so Seok Yi walks off all crestfallen and stuff, but that's okay, we still have time left in the film, I'm sure they're not going to end on that note.
Seok Yi walks away. Min Soo can't stop himself from turning his head to follow Seok Yi. They're both terribly unhappy and – god, this thing reads like a tearjerking melo script.
LOL THE CHEESY SLOW-MO RUNNING. (Kdrama convention #78, check.)
ALSO, CHECKMARK FOR HUGGING.
Y SO SHOCKED, SEOK YI? Don't you know how many fangirls would kill to be you right now??
This is like, my cue to be all touched and gooey that the boys are finally not angsting, but all I can think is, "Damn, that looks like an uncomfortable hug."
Basically, ever since the incident, Seok Yi haunted all the places Min Soo could possibly at and sat around clutching at the camera and generally looking like a grinning fool as he waited.
GOD SEOK YI IS SUCH A DORK. (BUT A DORK IN LOVE, WHICH IS THE BEST KIND OF DORK TO BE.)
Also, STALKER LIKE WHOA! (I didn't mean for you to take my taunting seriously! No, go baaaaaaaack!)
Points for persistence, I guess, because one day Seok Yi sees Min Soo get on the bus, and the film comes full circle.
i wish they'd make a Pinoy version of boy meets boy
Boy meets boy -
Starring Kim Hye Sung as a shy introvert, Lee Hyun Jin as the woobie jock
if theyre going to remake it i wish they'd pick angelo jake vargas and brent javier or kris keizer
jake angelo Vargas as the shy introvert and brent javier as the woopy jock