The music I'm listening to.
No, not even music.
I'm listening to "Nyan Cat".

Don't ask me why.
My little brother keeps replaying it.
It's the ten hour version.
He says he wants to listen to it for ten hours straight without pausing it.

Apparently it's been two hours listening to it.
Oh my god.
Someone, please, save me.
My friend's dumbass neighbors are playing grab-ass and I'm trying to study for my god damn midterms and theyre screaming like bloody banchees! =.= I. NEED. TO. GET. FULL. MARKS.
My sore throat, clogged nose & nausea
the amount of homework I have.......................
iam annoyed cause i was born into this boring planet and iam also annoyed cause not every 1 can get along i just dont get why ppl cant coexist peacfully
MA BOYFRAN WON'T GO TO HIS COLLEGE CLASSES CUZ HE'S SICK.
AND SITTING OVER MY SHOULDER READING THIS.
FAKE COUGHING.

I hope he's seriously offended by this post.
haha
seeing my ex bf be all "lovey dovey" with another girl..........ew. :/
i can't access all my accounts.... always happens....
want to sleep early but can't... my body don't follow my brain command....
My vagina ugh, this thing is a fukn animal -______-
MJRaNa
People who think they are right when they are absolutely wrong.
netdisorder
I'm out of cigarettes and am trying to quit. Not easy because I'm already craving one 30 minutes after my last.
My assignments, they're so annoying and boring.
Zatheko
Boredom, I'm just soooo bored right now haha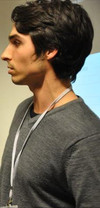 That I have to take Monday and Tuesday off next week for jury duty. This is my second time getting called for jury duty in a year.