sana's nori nori machine
and the buruccha she and hayama has
Death Note
A claymore (the sword)
Geass
One of the designs from Paradise Kiss
Doreamon's pocket
The pouch that Doraemon has!
1. A gundam
2. a starship (well why not?! =P)
3. a galaxy, universe, continuum, plane of existence... (lets see how far I can push this)
4. Suzuki-san the huge teddy bear from Junjou Romantica
5. The Shinrabanshō, from Nabari no Ou (who would need any thing like a geass, bloodline, zanpaktou, shugo chara, or innocence (close range combat/manipulation when you have this X-D )
a deathnote
doraemon's pocket
moka's cross
ichigo's bankai
and girls of shuffle!!!
deathnote
school uniform
cool anime boyfriend
all the powers of alice academy Image
paradise kiss' clothes
i wanna chizuru from kanoko
i wan lala from toloveru
I really wanna pocket doraemon
A powerful sword ( in any famous animes )
An Exorcist cloths
Gundam
Eyes of Sharigan
A powerful/cute pet that can talk .
devilgirl49
Nunnally's Geass, read the lines of the future.
Gentlemen's Alliance Cross uniform.
A shugo chara..
Shana's sword Nietono no Shana.
Suigin Tou's clothes and wings...

Thats a good list right?
Guu's and Gluttony's pwr's combined- yes i know, from two completely different animes but to eat anything and be really odd all the while would be kickass 4 me
1 a konoha fire head protector
2tsuna's Xglove
3the4th hokage's clothes
4ichigo's zanpakto
5shringan
THE anime HAIR!!!!!!!!!
lol who doesnt haha
A mudkip
Allen Walker's first coat
Allen Walker's crown clown
Komui's drill
Lavi's Hammer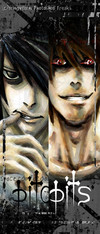 Deathnote
Shinigami Eye
Zanpakutou "Zangetsu"
Vash stampede revolver
Gomu gomu no "One piece"
everybody wants to kill ppl with the death note so much?