I was barely living a few months ago, so compared to then I'd say my life is pretty perfect.
Gintama is coming back next thursday.
There is a Lantern Festival tomorrow night.
saksiss
Um.. I guess I had a shower today, now clean.. That's the high point of my day -_-
everything is imperfect now in my life so i find it perfect.
Right now
,
that would be my career and the people i got to meet as friends and colleagues plus my family support all the way
Sums up how I feel right now.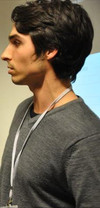 I'm really satisfied with my career right now, as well as my relationship with my friends. My friends are perfect, and I couldn't ask for a better job.

What I need to work on is repairing some stuff between my parents and I. We're on tense, uneasy terms.
Things are going too well for me right now, I should probably do something to fuck it up some more.
GodWhomIsMike
Perfect in my life: My traveling and party life. In the last 6 months, I been on a 8 day cruise in the Caribbean, Puerto Rico, Japan, Portland Maine, Boston, Atlantic City (a few times), and a bunch of short road trips.
At the moment I'm really happy about my relationship with my boyfriend! C: