M1keymike1
karmacide
wrote
:
M1keymike1
wrote
:
LIAR! You learned that this topic existed.
KNOWLEDGE. LEARN ABOUT IT.
I DIDN'T LEARN SHIT IF I DID I WOULD SLAM MY HEAD AGAINST A BRICK WALL UNTIL I FORGOT IT WHEN I SAY I LEARNED NOTHING I MEAN IT GOD DAMNIT FUUUUUUUUUUUUUUUUUUUUUUUU
I just learnt that you are a funny person. Also...
Dammit, I was going to spurt out some random fact and say, "Let the slamming commence.", but I can't think of a damn thing. You win.
That me and my guy firends all wear the same size pants haha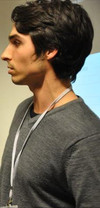 Well I went to Uwajimaya today and learned that Japanese make pretty kick-ass candy.

I'm putting flavors in my mouth I didn't even knew existed? Ramune, musk melon, muscat, mangosteen, pomelo, lychee, wtf.
I was reminded (learned) today that my mom is a two-faced, self-centered, first class B*tch, which reminds me that my Dad is a lying, selfish, deadbeat, sack of Sh*t.
... Sorry...venting.
Raezk
Wall are everywhere and it hurts when you run into them.
Well last night or the night before I learned that my cock is above average without even being fully erect.
I learned that Sigmund Freud was one messed up person.

That spending money is good ... ahhhhhhh yeshh (;
this is funny stuff
http://www.youtube.com/watch?v=D0Qw2EkOkmA
I really need to use my cane when I dont wear my glasses and contacts >.< walking into things hurts
That I need two people to build a detolf (IKEA curious cabinet).
Before kobe bryant was born his parents loved going to the steak house. There was one order they partically enjoyed and is called kobe beef... thus they named their child after some japanese meat.

kobe bryant's middle name is bean... his parents must of loved food.
The difrence between Eau de toilette and Eau de perfume
Scarlet weather Rhapsody and Hisoutensoku is the hardest video game in the world.