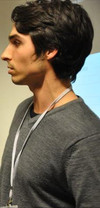 It's called common sense.
NothingLikeYou
Of course none of us actually have super mental abilities- just like there are no ghosts, even though others say they see them...People make things up to feel more important/special.

It's cool though...

I'm a pretty decent judge of character but that's easy just think the worst about someone and you'll be right at least 80% of the time :-)
i have a bullshit detector
I have the thought provoker.
I think of something bad and it usually happens a moment later. (moment ranges from a minute to a day)

I call it the Murphy sense.
I get deja vu a lot.
Like, when something happens I could always connect it to something that had happened before or smthh.
Yeah, I can read minds. I can tell what people are feeling at any given time. I have the ability to make people sad or happy.
If any of you really think you do have a demonstrable power, there's a company, the James Randi Educational Foundation offering a million dollar reward to help them prove that there really is a paranormal, or supernatural side to life.
http://www.randi.org/site/index.php/1m-challenge.html
Oh, apparently it's up to 1.28M as of april 2012
http://www.randi.org/site/images/stories/evercore.pdf
nothing, i'm just one lucky SOB x3

and i do mean lucky :3 or maybe im too optimistic... nah.
Does being a lucid dreamer count as a supernatural mental ability?

If so, then I'm amazing.
I can read lips pretty well and I have a tendency to forget certain words when I need to use them the most....and I'll remember a few minutes later and beat myself up for being a retard
Not really anything magical or supernatural, I'd say.
Ahahahaha I wish I did though there are times when I swear that I can feel what other people are feeling?
but it'd be nice if I had a special ability
I'm connected to Alex with psychic powers.
Chronic case of déjà vu. Means I may have the power of unconscious prediction?
Don't know if you would call it supernatural, but I've always had this knack of knowing when something wasn't "right" that probably saved my life once. I was a member of a volunteer fire department, and we were called to a house fire. My best friend and I were sent in to do a search, when I stopped for a couple seconds. My bud hollered (we were wearing those air packs and couldn't hear each other well) "What's up?" I hollered, "Something's wrong." Right then, a 4 foot by 4 foot section of ceiling came crashing down just about where I would have been by then. Scared the CRAP outta me. We managed to finish our search (nada) and got out. After we were out, that was when I freaked out. Just glad I held it together until then. Won't forget that for as long as I live.
Only thing I've been able to do is make my iPod play whatever music I wanted it to when randomizing a playlist, by thinking of the song I wanted to hear. Talk about useless ability.