Always date an older women if you can find a hot one. They're great for us men because they're at a point in their lives where they've stopped being flighty and have come down to earth. They know exactly what they want and are frank about it. More than that, because of the age difference they generally won't respect you, which is awesome, because it means their demands and expectations are also rock bottom.

Call this analysis what you will, but the fact is that all of you young ladies will hit 50 some day, and you're going to be quite happy to find that hot, dumb, 20yr olds are still eager to please you. As for us older guys, it's not like that, young women are unbelievably energetic and all of their crazy emotional nonsense leads to them demanding and expecting far more than any other age group. Oddly enough, their perhaps misplaced respect for older men works well for a marriage, but never as a casual relationship. Outside of a commitment you'll find that they'll generally toy with you until they rip you apart. It's not out of malice, it's just circumstantial, but it's what consistently happens. So, like I said, we're not in the same boat later on in life when it comes to dating youngsters.
Eh, nothing bad. You see it all over in mangas and animes. +___________+ but id rather have it the other way around with the guy being older than the girl.
CorynARC
wrote
:
Hey, l'm just asking this because there's this one girl that's a year older than l am, and l'm slightly interested in her. Just curious about what's everyone's opinion. :)
ONE year older? And you're 16? That's called kicking ass and taking names man. If you were my age and the chick was pushing 40 with 2 kids and an estranged husband she wants to forget about, then I'd say you should seriously consider it more closely.
My advice: 1 year is nothing, even later in life so it doesn't really matter. 10+ is the threshold for: should I or shouldn't I? unless you're literally cougar hunting which is never serious to begin with, because those safari's are always for bragging rights and putting another notch on your belt.
I dont mind and I dont judge, So go for it, and you shouldnt
listen to judging people cause their trying to control you
darkness815
I personally prefer older women as they're usually more mature. The childish ones annoy me
I...... kinda like it when the guy is older than the girl... but then again I just prefer to see more mature men with a nice girl.
So if you're mature and don't get high every other night, have a good job, and are not playing around, then I think your relationship would work out~
I don't mind as long as the social gap isn't too severe. The oldest one I went out with was 30 (just turned 30 on her bday when I met her). She was pretty cool, and the interactions were seamless. She didn't socially seem any older than people my age, but she was a bit more self-assured and sensible.

Admittedly, I don't have much experience with girls I consider much younger than me. The youngest was only 3 years younger than me. 1-3 years of difference doesn't seem to matter much.In fact, a 1-2 year gap shouldn't even count as a different age.
tigerwolf29
Well I think I might be interested in someone who's four years older than I, and I'm 18.
Biology is in favor of such a relationship. Male sexual development peaks much earlier than that of a female.
WhatzFun
As we're discussing post-pubescent minors getting together, it's not the age that matters it's the person. There are experiences that come with each stage of life. They may be able to do things that you can't like: drive, have a job, be out late, have more disposable income, have more say in their life. Developmentally speaking there's not much difference between 16 and 17 so, your life experiences are likely to be similar. As Indiana Jones says: "It's not the years honey, it's the mileage."
I have. She was 19 and acts like a 14 year old so I don't know if that would actually count.
its fine its one damn year so go tackle that babe~
I make fun of my friend Jonson because he likes older women I always point at 60 year old women and tell him "Look its your girlfriend"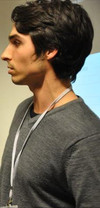 I don't think much of it. If you're both mutually attracted to one another, then it's natural to want to pursue that and see where it goes.

I've dated girls several years older than me, and they were for the most part good experiences.