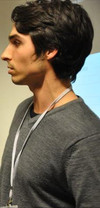 KazeNiNare
wrote
:
For the love of God he looks like Gizmo.
Oh gawd, just kill me already. I feel like squealing like a little girl.
I want to be sexy but I only ever get called cute -_-'
Too cute is when it becomes painful too look at.
As in, something is so ridiculously cute, that you cannot but FIND fault in it.
And that fault is, of course...the particular thing being TOO cute. I'm sure you get it.
Too overtly cute. If it is a subtle or shy cute thing, then there is not really an extreme.
But overt cuteness, or the coefficient of relevant cuteness exceeding the norm, that's too much.