Had that fucking coming.
The 8 year old girl didn't get the chance to call the police.
Why should he?
This case is almost too ridiculous to be true. xD

The father is an idiot. How can you show someone they've done wrong by doing the same thing? Logic.
And then one of the relatives to the stepson will rape the father.
i_love_u_jesus
If you really are serious, then no, I don't believe in that kind of justice. All of that is awful.
Eye for an eye baby...eye for an eye.....I myself believe in two eyes for an eye, but hey, the justice system in most countries are pure panzies

Just goes to show how far we've come from living in caves to manned flights in space, we're still a sad, pathetic race
For the record, the father is a hero to me, and deserves a medal, not jailtime.
The 18 yr old should have a record and tried as an adult since he is an adult . Bad parenting and bad judges let this on slip through the cracks. I would have just killed the boy that mental disorder never leaves and in some cases is passed down to child.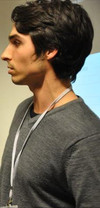 The apple did not fall far from the tree...
my only comment is.....
RAPECEPTION.
blurpblurp
wrote
:

Police say he severely beat the teen with a baseball bat, then anally raped him with a wrenchlike metal tool.

OMG!! that must've hurt so much.
...would it have been better to have beaten him with the wrench and raped with the bat???.
...BUT...it is kind of the case of the punishment FINALLY fitting the crime...
I wonder how the little girl feels about it all now. What drove the son to rape his little sister anyway? Too much kiddy-porn?
momokoseiya
I have two small children, and if anyone hurt one of them in any way, I can't say that I wouldn't react. I wouldn't go to an extreme like that, but I definitely would deliver my own kind of justice. The father obviously wasn't in a rational state of mind. His precious daughter was being raped. It obviously made him snap. Like I said, I don't agree with what he did but I understand why it happened.
Talk about an eye for an eye..
The kid shouldn't have raped the girl, father is a boss.
S7YX
Now that, ladies and gentleman, is justice. Forget the pussy justice system, this is true justice.

What comes around, goes around!