painzz
uh huh well iv done my research and the most cause is wat i said if it happens to them when they were young so likely they will repeat
people need help these days. =/
Tiekonduekid
Way too S&M for me I mean worst fan fic ever .................. I AM being sarcastic btw
keknight
First the 8 year old girl is going to be tramatized now and the father went to far rapping his stepson a good beat the shit out of his son until his hands give up would have been enough.
He should have just shot the savage thing. Rapists have no right to ever be alive! They're not people. They have no rights, nor do they ever deserve them. They're things. Things that need to be killed off.
jordancharacter
Well, if the teen went to jail, it wouldve happened anyway. But still, thats just not right...
FlyingPiranha
I hate to say it, but this is kind of hilarious. Of course I feel bad for the girl, but I'll be damned if revenge rape isn't the most unique form of vigilantism I've ever heard of.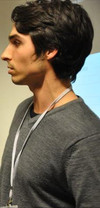 Maybe I'm in the minority here.

I do believe rape warrants severe punishment. Perhaps even life imprisonment.

But I don't think we should dish out capital punishment, executions, or lynchings for it.
Banned
Real karmic justice. This is the shit.
Eye for an eye I guess...Or an ass rape for an ass rape in this case. Whatever, the little prick deserved it.