on: quiet, able to do puppy dog eyes, loving, emo, guitarist (biggest turn on O.\\\) and if they have a good voice i'll be on my knees.... all of these describe my gf shes so beautiful <3

off: loud, stuck up, troll, friends with people i hate (yea that can be a turn off), bitchy, tonedeaf and ugliness lol
turn on's: very obvious collar bones and pelvic bones, red heads, attractive brits, too awkward or too aware

turn off's: I have a list, just can't think of any now.
Turn on: Girl
Turn off: Guy
tall, smart, thin, messy guys - turn on
abs for guys - turn off
arisa13
wrote
:
what turns u on and off? give ur opinion.
IN A GUY/GIRL
a guy thats taller than me for some reason turns me on. and a guy who loves me for me....lol. but a guy who smokes or drinks alcohol will tottaly turn me off!
what about u?
Turn on: My fiance. Him being naked would be so much better, lol.
Turn off: For both genders; poor manners and disrespect for themselves and others.
turn of: man whore/player nooooooo way
turn on: cute, honest guy who makes me laugh and can play/sing/ have anything to do with music
Red lipstick turns me off a lot of times.


i get turned on by children 10-
toxxin
I'm all about the teeth. Oral Hygine tells you a lot about the person. I can't stand bad teeth.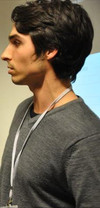 A turn-on: sane, reasonable women

A turn-off: insane, unreasonable women
Evat
Turn on: Brown hair and highschool girls
Turn off: Older than me, tall
An absolute turn off is a guy who has gigantic muscles. I don't understand why some girls are into that....Frankly it's quite disgusting. Turn ons would be hair and eyes
On: Redheads, Accents, girls with some degree of intelligence, and big doe eyes

Off: Shorter than 5'2 (im huge compared to most people, im 6'6), abrasive personality, argues about everything, and demeaning towards me