Kisses on the cheek to greet a girlfriend. ^.^
i've kissed someone of the same gender as mine unfortunately it happened when i'm dreaming
Xmas_Hat
wrote
:
Marrionette_Square
wrote
:
There was one night, i was out with my friend Alex and it started raining so we were chillin under some random overhang getting stoned, and as he handed me the joint he said "I wanna try something" and just kissed me outta nowhere o.o Kinda weird...
Your friend has some balls to try something like that.
Indeed he does, though he was high, so maybe not so much.
lol one time! since i dont know anyone here its fine because its like my worst secret. im not a lesbian and i like boys like ALOT at all it just happened
Yes. It wasn't that bad. It wasn't extremely life changing either.
Nah, I don't like Kids so I can say I didn't give my nieces a kiss on the lips. I only give my girl friends a kiss on the cheeks when I meet them.
One of my close guy friend sometimes randomly kisses my head. I know a lot about him and know he's had girlfriends before, but I just can't help thinking he's bi. He's acts quite girlish in some ways and then in other ways hardly at all. Strange. If he does come out to me and say he's "Gay or bi" I would not be surprised at all.
Happencheese
Of course. Never kissed anyone of the opposite sex.


dunno001
Yep. Perfectly normal, too...
Nope Nevaaaa Evaaa gonna happen.
No i never did cuz i'm not gay
Not big deal for us females
I do not know for male giving a smack on their lips and saying later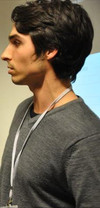 I'd entertain the thought of doing it.