Waiting to graduate high school/freedom. Waiting for some good surprise to come my way. Waiting for the perfect time to ask my crush out. Yep.
Coyotess
waiting for my life to end. :/
Since that will eventually happen anyways.
a person to come to his senses
waiting for something great to happen
For The Planet of The Apes!!!
Art-chan
My birthday's on Friday--so I guess I'm waiting to be a year wiser? That counts for something--I guess.
am waiting for vacation again
Waiting for the Doctor to show up. Or at least a Dalek or something like that.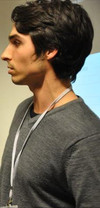 Got back from the gym. Waiting for my dinner to heat up.
malicust
Waiting for tomorrow to get here so I can buy a replacement part and finish fixing my car.
Waiting to do a late night bbq @10pm tonight for my friend's last day before he goes back to socal tomorrow. NOM NOM NOM
Gextiv
I care about your need to find someone to care about you. :)
Waiting on my Heart Rate Clock/Monitor, so I don't over work my heart during my daily cardiac work outs.
waiting on alot of things, a job, life to get better, uh, waiting for christmas XD sorry i had to say that.
Nothing really, my job acceptance mostly.