If its sexual no but if its tap on the shoulder yes
Depends, if hes like molesting every person he touches then no, but if its "messing around with the guys" like wrestling or whatever then its fine.
it depends. there are just some annoyin, really stupid ppl who didnt learn the basic etiquette of personal space. they like to touch you for just no reason. if its a sexual touching then hell no, and i would seriously kick his ass.
One of my closest friends is like that. He's a really social and popular guy, he'll go around (particularly to girls) trying to introduce himself to the ones that have caught his 'interest' to see if he can become friends. For girls the next day we see them, he'll asking them for a hug out of nowhere and most of the time the girls don't mind. He seems like a player but he's not.

He's only had 1 girlfriend. Though it did broke up due to the jealousy of his actions and he still hasn't learnt from it. Hopefully he'll learn his lesson soon and learn to put down some boundaries.
Queen Moderator
LainZero
Just to post on an old thread that still makes me wonder wtf...

Everything about this post seems wrong...
I don't know if they just worded it wrong or if they meant it the way it came out.
But hell no...
justinitsu
I shake a man's hand when I greet them and when I must say farewell. Also, with my close friends, we do a warrior's grip where we grab each each others fore arm and make a remark like "brother" or "well met."

I hug a lady when I greet them and when I must say farewell, but only if they're in my close ring of friends.

Or I just fist bump everyone because I'm lazy.
It depends on WHERE he's touched. Of course I'd still like him if it was a general hug, or a hand shake, or a pat on the back. Or any of those general gestures. If it was like, a grope, I'd be concerned. I would also be slightly concerned if he hugged the opposite sex. Sure, I do sometimes, but people these days usually get the wrong idea.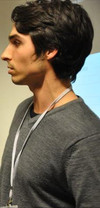 Oh shit, I touch way too many people.
Way too many.
the fk is that suppose to mean? If he touched everyone? Is this guy molesting people or something? COOTIESCOOTIESHELLNOFK.
Gah I used to get all tense if anyone of the opposite sex openly touched me.
A friend changed that for me but he does it to everyone and it really irritates me.
If you really want to get to know a guy, you should step aside his negatives and go to his positives. Probably, there's something unique and nice about him that you'll know soon. I'd say give him a chance. There's a reason why he's doing it, - My advice to your friend.