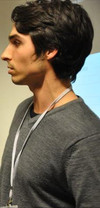 Excited because I'll be able to drop by Chinatown and buy some Vietnamese sandwiches. Best sammiches ever, I swear.

Driving my brother out to the city for a doctor's appointment, on the way we drive pass Chinatown. Might as well kill two birds with one stone lol.
I feel pretty good right now. Evidently a few of my coworkers heard about my minor break down last night as they've all been coming up to me throughout the day to tell me that they appreciate my how hard I work and are there for me if I need them. It's a little cheesy, but I know they mean well and it's nice to feel wanted.
hmmmmm. is nar nar a feeling?
ehh.... Neutral.. Nothing special, lol.
toxxin
scale of 1-10 (1 being potentially suicidal and 10 being best day ever) id say im about a 3.
I'm not entirely sure about how to present my brain with this occurrence.
My mood is like a hooker ... on drugs ..
I'm a bit disappointed. What I thought was going to be a great day for job hunting and homework turned into a slow and lonely rainy day.