In school, Math was cool if I knew how to find the answer, and it was great when I figured out an answer. But apart from those situations which were few and far between, math sucked. I'm more of an English person myself
.
hating math and science is not acceptable in a modern society (well you can hate it, but you should at least understand up to and including some of the more intermediate trigonometry, and i do not consider the world a modern society with governments exterminating free thinkers, and theocrats trying to take arguably one of the most important political positions in the world.).

for society to progress it takes everyone to be at the same level and understand. it makes for a more efficient economy and allows for more and faster innovation that will eventually raise us from a lowly T0 civilization to a mighty (lawl) T1.

as for myself, if i had the choice id build a huge island about 500000 cubic kilometers in the middle of the ocean, and only allow those with the will and strive to learn everyday for the rest of their lives, just imagine how much farther we would get if we had like 150 million people doing nothing but trying to understand the way things are. hundreds of years of research and development could be done in decades.

ill list some things that are only possible because of math
computers
software
houses
food
tp
bridges
any electronics
paper

basically everything. doesn't it seem a little ignorant to hate it, if it is what allows you to live.
I guess math is ok. I'm not bad at it and I'm not good at it either. I think it's really hard to find a teacher that can teach it well. But then agian the student has to be willing to learn and not many students want to learn anymore.
do it w/o a calculator and youll see improvements
MasterMochi
Math is fine by me, as long as it doesn't get into annoying stuff like integrals.

As "x" approaches "b", my middle finger converges to "flipping you the bird."
muzeEkluvEr24
wrote
:
everybody knows that the majority of people
HATES
math,,,
sometimes i hate math and sometimes i dont (so dont mind ... cuz im too weird)
okay,. my question is.... do you hate or like math??? and what does math make you feel?
Apparently people also hate English.
i like math because i understand it and I'm good at it and i can not pay attention in class and do fine.
Lexxuk
Maths can be useful...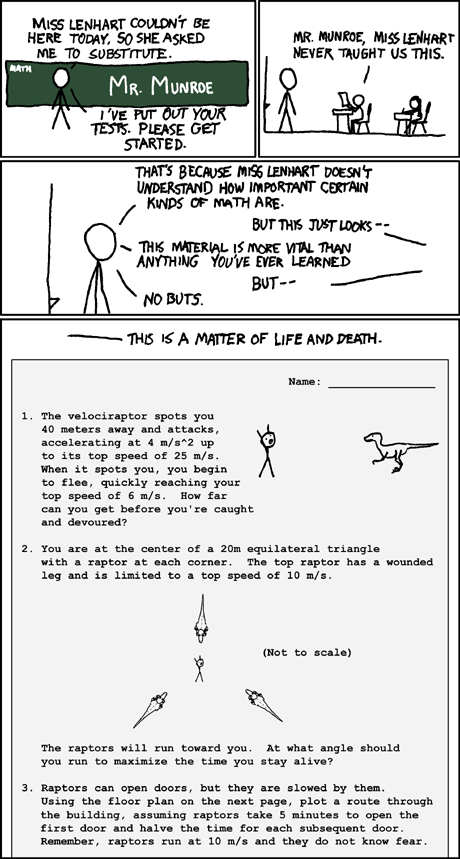 If you have a fear of raptors.
I hate math and I always will.
I love Maths and maybe one day I will get a doctorate in it.
I'm in Math II and math got worst when they decided to add the alphabet to it. Algebra is shit.
I am going to pay one dollar for whoever does my math homework for me.
I love math because I personally think that you don't need to memorize much. I find subjects that require memorizing such as history and biology hard.
shinigami2513
I like math a lot when i can figure out the problem. It makes me feel fantastic. On the other hand, when i can't figure out something, nothing else makes me want to break something so bad.