i'm not a guy but i don't think they care that much. unless you're really unfortunate looking there are going to be plenty of people who find you attractive (and even then there are still going to be people for you), so something that's cute and pretty like a baby face isn't going to hold you back
Not sexy but not cute neither.
I think they are cool because I am a guy with a baby face too of course without my mustache
NothingLikeYou
I'm not a pedophile so I do not need a female to look like a child to arouse me. It's always good for both male and female to look young but too young will look very odd after say 25ish? Imagine Justin Beiber having that same face in 20 years. He'll look like a mutant.

I like a cute/pretty face but she does not need to look young if she is not young.


Well depends on what you think is a baby face. Some Asians look like babies in their 40's. lol
… I look like 4 years younger than I am. Doesn't help that I'm short...
A cute girl is just that, cute. But a woman, well, that's beautiful
um... i mean i like younger looking faces, but a BABY face is going a little too far for me.
We're naturally inclined to be nicer to them and to trust them more because of their youthful appearances.
well, I am already 18+ of age, It's cute like OMFG KAWAII YO! but then again, looks can be deceiving if you don't play your cards right; turns out to be 17- of age. But then again, sure, we can talk and all, but at the right moment asking her for her age wouldn't be a bad idea.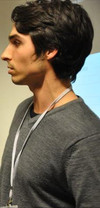 It's not something that is a high priority for me. I know some women who do exhibit that youthful look though, they all tend to have larger eyes, high fuller cheeks, constantly smiling, good skin. It can be a problem if they look too young though, especially going out with them to a lounge or bar and constantly getting ID'ed, plus people asking if it's your sister lol.


Everyone is thinking about Selena Gomez right about ... NOW lol
Tim_The_Enchanter
It doesnt really make a difference to me