Sweet sex from day to dawn.
Don't know about all of the specifics, but I do know that I want a skydiving wedding.
a wedding with the guy who I never get tired with.
One with a bride. Nobody wants to be left at the altar.
I just want a nice wedding and to get married to the person of my dreams
and go on my dream honeymoon
Rajyrr
Weddings. Sound too dramatic .. I'll pass. If forced, I guess .. a courtroom?
I'm probably not gonna get married to someone of the same race, so I'm gonna elope so my family doesn't offend anyone.
NothingLikeYou
My dream wedding is to be surrounded by 1,800 nude virgin females that all wish me a happy & long marriage using intercourse as communication.
toxxin
I think the ceremony would have to depend on who I'm sharing it with. But I think I'd like something clean, and elegant not too extravagant or showy since It would be the person not the ceremony that would make my wedded life bliss.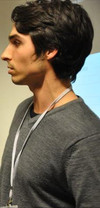 My Dream Wedding: A polygamy marriage to a bunch of Brazilian supermodels.
I kinda want a huge wedding, like all white, birds chirping in a nice grand church, but then I'd be so stressed about screwing up...

BUT I guess my biggest wish is to be with the one that I've already decided that will be my perfect hubby :)

I would probably do it in Tokyo, Hong Kong or Malaysia... if I had the cash
I don't plan on getting married, but I'd like a unique setting if I do.

A dark wedding in a secluded, secret place.


OMFG, yes. You gave me my first genuine laugh today. For that: Thank You.