I agree with you BlaculaKuchuki. The problem with online "relationships" the lack of a relationship in general. There are many important aspects that are missing when you talk with someone online. For one: it is very easy to create a perfect persona. With the internet you have time to think out what you're about to say. To change it to fit a certain way, and lying and being someone else is not difficult. You can make yourself seem perfect. Also, there's a sensual aspect missing. You can't see how the person really laughs, how they might throw their hair back, how they might act around others. What if the person is really controlling but you don't see it? What if their ambitions are actually not there? What if they're not hygenic. All of these questions. Also relationships require the physical aspect too. Feeling someone right there, next to you. The sound of their voice, their many tones, the way their nose might crinkle or their voice cackle. How they walk, their posture, all of these may seem like unimportant aspects as to why you should like someone, but it's things I personally enjoy noticing when dating someone. I like learning such things, experiencing them. It's like pulling away layers, little by little, trying to figure them out. The puzzle never ends and it goes on forever all your life if you end up with them but online it's different. You see their perfect picture. Their effort in making themselves look as good as possible. Even if you webcam. You miss the messy bedhair, you miss the joy of catching them in a ruffled state. You also miss their aspects. Also, the way we intepret the way someone types something is based on what we would think it would mean. We do this when speaking with people too but tone helps for it to be minmilized....I kind of lost track of where this thought process was going exactly but I just wanted to say that I think friendships CAN be formed online, though they too seem hollow and usually don't continue...But relationships miss a sensual closeness.
*siiigh* i actually prefer to be able to see, touch, and smell the person that i'll be in a relationship with...and form an emotional as well as physical bond!!


bella_vita
wrote
:
*siiigh* i actually prefer to be able to see, touch, and smell the person that i'll be in a relationship with...and form an emotional as well as physical bond!!
exactly!
I don't know if i replied this O___O;;
But anyways
There's nothing wrong with other users dating in CR
it's perfectly fine as long they're both happy right.
Maybe one day they will meet and things might go well for them :D
Just warning, there's a lot of pedo's here.
so becareful LG's...
i think its kinda strange cuz u dnt really know bout the person, but i dnt know much bout dating anyway so whatever
Bah, it's all a load of bull. No offence.
Everyone, let's date! It would be great!
a lot of people create another persona online.
finding friends is okay. dating is another matter. best be careful.
lotsa paranoia and a whole lot of luck!
I am sure people do it, and hopefully they know what their getting into. I personally wouldn't, I tried online dating when I was in my late teens and early twenties both on services explicitly design for it and once with a girl I use to chat with online. There was nothing wrong with the people I met, but there is only so much you can glean about a person until you actually meet them. Also I really hate filling in profiles which is why mine is pretty well blank on CR.
i think its laaaaaaaaaaaaaaaaaaaaaame
dating online....noooooo. Finding someone at upfront...... you got skills =)
Kiki's Customer Support Service
Ezgi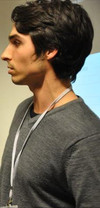 Dating online is like shopping online.
It's convenient and easy and you find a lot of good deals but at the end of the day you have no idea whether you're going to be scammed or sent something that falls short of your expectations.
Better to shop/date in person. It's easier to see through the bullshit that way, and you get to handle the goods and see whether it fits or you like it.