Winterfells
wrote
:
negan
wrote
:
Winterfells
wrote
:
Might be one person on CR I'd be willing to put in the effort though.
Aww, that's really nice of you.
:w00t:
You know me, babe.
And here we see the beginning of a new relationship......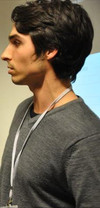 Not really, we're just playing around. :)
For some reason I don't think I'm her type.
I was referring to someone else.
eclair-lumiere
wrote
:
CarboKill
wrote
:
eclair-lumiere
sent me a PM saying she wants to be my CR girlfriend.
wtf is wrong with you? why have you suddenly become a total stalker? I seriously hate guys like you. I argue with you since you insult me, and you asume that means I like you? What a perv. Stupid guys like you need to get over yourslef and stop being so egotistical. When a girl acts like she hates you, that usually means she actually hates you. Stop thinking every kind of reply is a way of flirting.
You should stop insulting him or you'll get beaten up.
Agate86
Personally not for me based from experience, but I don't see why it isn't possible.
iamtheredseven
Good evening ladies. Praise the Sun.
To each their own really. Lot of people will see good in such and yet others will find bad in it.
otaku1225
Spoiler Alert! Click to show or hide
Yes, I knew this would be your answer. Glad I amused you.
Not approved of by me. Stop wasting your time finding trying to find a meaningful relationship online and go out once in awhile to meet new people!
I think an internet relationship can be, yet it still depends on how this relationship goes. Are these people really ready to share who they are to a complete stranger or are they just pretending because it sounds 'cool'... My parents met through the internet and are still together after 15 years.. It can work. It can fail,just like real life... However,internet only relationships are not necessarily the most reliable and long-lasting ones. Whit society nowadays,it can be hard finding someone...
Ehh well people can do whatever the hell they want, I mean, it's their lives. But I personally would never do online dating. You're never sure of who you're really talking too, and it also most be painful having a long distance relationship. They're also quite hard to manage.