Was once spoiled , but after being on my own for over 10 yrs the struggle set me straight.
Aokidanza
Yeah, I'm spoiled. Usually get what I want and way more than I need. The perks of being a minor with loving parents, I guess. But I don't take it for granted, and don't ask for much. I try my best not to act spoiled.
Yea, a bit, I'm an only child. People automatically expect for me to have brothers because I don't act spoiled, according to my mates anyway....
Back then I was. Right now, nope. I gotta work for my own things nowadays, but it feels good knowing that I'm working hard to get something I want instead of nagging to my parents about it.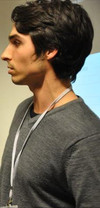 I'm like honey...I'll never spoil.
immitis
My family has a rule, if you miss a meal you don't eat. This is par for the course.
Ichiyamamoto
All things considered, I am relatively spoiled.
I am spoiled, but i can also blame super high prices on apartments(any place to live) and school (and retarded school schedules) otherwise i would move out and try to be self-sufficient (i've been self sufficient a year, but i couldn't afford more than 1 year of rent even with a job)
MountainMew
I tend to think I am. Not in the sense of getting everything I want or anything, just in the sense of being privileged and owning many nice things. I also used to get very upset over not getting things, though now it's pretty much the opposite.
Nope wasnt spoiled. Although i got everything that i wanted, but that was by my own means all the way.

trinkit
I'm not spoiled, I only get that which I have earned.
I don't really consider myself spoiled. My parents just happens to get me anything, even If I don't even want it. I mean it's not like I even ask for it, right?