I eat in accordance to what food it is, steak; Knife and Fork, Ice Cream; Spoon, Asian Food; Chopsticks, Soup-no noodles; Spoon, Soup-With Noodles; Chopsticks and bowl to mouth. Sushi; Chopsticks, Sashimi; Chopsticks Nigiri; Hands, Fried Chicken; Hands! you know, the usual.
jms_serna
I eat use my hands bcause iam pinoy
Throw it down like GOKU!!!!!
I pig out. Sometimes. I know how to be lady-like at the right times. ;]

Ha.

I usually like to use chop sticks when eating noodles. Other things, I use knives, forks, and/or spoons. I have salad forks too, when I'm eating a salad.
With all my concentration...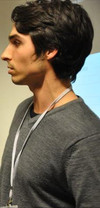 Well, when I eat a girl out I first move my head down lower...
shamarr496
i try and use a fork as much as possible but when im out eating Chinese ill use chop stick or if im at Japanese express at my food court mall ill use chopsticks cause im kool like that
I usually use my own set of special chopsticks when I go out to eat. I bring them myself and clean them at the end of each meal. At home, I use a pair of extra long, thick wooden chopsticks. They are a bit heavy, but they grab things very well. I also use a thick, metal spoon with a large, tear-shaped scoop for most soups and rice.

I use a fork only when I am eating pasta, steak, or pizza. I only use knives for pizza and steak. When eating sushi, hand rolls, or nigiri, I will use my hands. I use chopsticks to eat sashimi.

In any case, I try to not use any utensils as much as possible. And when I have to, I try to use as few as possible. I'll often just have soup straight from the bowl if it's cool enough, and if I am eating pizza at home, I'll just use paper towels to eat it.

No matter what I'm eating, I will need to have a glass of water nearby. I will also smell my food before eating it.
eating with my hands makes the food tastier
I sniff my food, that's how I consume it O.o
Using cutlery. I try not to eat too fast, and I drink water when possible.