savannahbeme
If I see someone picking their nose, or if someone sneezes & snot comes out. *gags*
All liquids made by the body, I think. I am pretty squeamish
side seats on the shuttle/bus

bleh.
Sharb8
my blood :/
that and watching people getting decapitated. Never again will I watch such things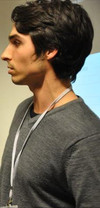 If I'm in a small car riding for 5+ hours with no air flow I start feeling pretty sick about midway through.


Sailor Candy Moderator
alexwithcandy
Spring forum cleaning! To keep the forums neat and tidy we only keep 6 months worth of threads since its May 19, 2013 [5/19/13] we will keep only keep posts open from December 19, 2012 [12/19/12]. Please feel free to recreate any thread closed, as long as someone else didn't open another similar one before you.