Only my elder brother , though it doesnt come to fists , i might get slapped in the face or pushed against a wall , but its been a few years since our last fight
im too laidback,coward and week to have a physical fight but when i was younger i did have a few physical fights with some of my siblings,cousins and stepmother
phogan
I had few in grade school and my sister and I use to fight when we were little.
unhip
Yes . I have been in many fist fights and some fights we even used bats and pipes
unfortunately yes
my mentality now about fighting is i wont fight unless its self defence or my familty is in imminent danger

fighting for anything else is petty, and if i do fight i have the mentality to kill them not just let them be knocked unconscious, but end their life because if the altercation got to that point, then it must have been something very serious to force me to fight - this is a hypothetical but this is my logic, right or wrongly
choieraebin
Nope, I don't fight at all
Yeah, when I was young. Always fought with my elder bro.
Rajyrr
I've fought with my sister, I've fought with my father, I've fought with my bullies, and I've even fought with people who insulted me directly despite knowing little or nothing about me who I haven't seen since.

All of that was before the age of 9, though. I won all but the last fight I ever got into. Alone. It turns out bullies eventually get smart and recruit bigger and nastier bastards into their group, over time.

I've since decided being a pacifist is better, seeing as violence never settled anything for me.
Yes, all of them ended in my loss, so the score goes like this...
Me: 0
Them: 14
and yes that includes the aftermath beat down.
swordstyle
More than I could count....
I've been in real fist fights before and won every time. One pussy even went up to the teacher and asked for a bandage after, lol.
I've been in a few (4-5?). A lot more if you count fights during my martial arts classes.

I don't usually like to swing at people with the intent to injure or kill. I try not to hurt my opponent too much unless they are obviously too big/buff for me to go easy on. I will never throw the first punch (legal reasons). I used to carry a knife, but now I carry a nonlethal weapon similar to brass knuckles (it's made of wood and plated with metal). Still, I try to avoid them as much as possible.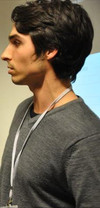 Most guys have gotten into some sort of fight or scuffle growing up.

Raging testosterone, rivalry/competitiveness, alpha male complex, etc.

I had fights going up to freshman year in high school, then after that never got in another one.

I've also had bedroom fights with women...