From Vicky's Secret, I got these sparkled underwear. It's kind of awkward for me, because the sparkles do come off.
savannahbeme
This zebra print thong I got as a gift with horrible metal stars that leave marks on the hips.
Polka holes with a transparent net that looks like a skirt on its outside .


One of my friends managed to find a pair of panties with the words "It's Not Going to Lick Itself" written on the front and she decided that it'd be the perfect gift for me. Where she found them and why she decided to buy them for me I will never know.
my reaction to all of the comments above.
you girls know how to please your men. Im burning with jealousy.
My most ridiculous pair of underwear is a pair of spandex that i use for breaking horses. Protects meh package so that breaking horses wont keep me from makin babies. Has a whole bunch of holes in it.
kamaitachi5587
Boxers? Hmmph.. Go COMMANDO. In all seriousness though just normal boxers with normal patterns.
A white pair with green trim and it says 'Kiss Me, I'm Irish' even though I'm not....I don't remember how I got it.
For some reason, I have a pair of briefs, that have a huge hole in the bottom of them, no idea how the hell it got there, and why they're still sitting in my drawers, but the one time all of my other pairs of underwear were in the wash, and I actually had to wear them, I ended up at my friends pool and didn't have any swimmers. I didn't do any swimming that day...
I had green pants with the Mask's face on it. That was when I was around 4-5 though.
Koalas. They're the epitome of sexy.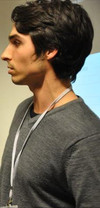 I know most women think these look super lame and unsexy.

But I have a few pairs of plain white briefs (aka whitey-tighties).

I guess I'm just used to wearing them since I was a little kid, and there are times where I like wearing them better than boxers. Any sort of activity that requires more support like running, playing basketball, etc. I'd prefer to wear briefs rather than boxers. It's not fun to flop around.


Camotyger
I have a pair of classic scooby doo boxers that are so awsome!
Sailor Candy Moderator
alexwithcandy
Nuked OP. Locked.