Weird how these are also the only things I ever drink. If I can't have any of these, I'll go and drink tap water or eat some fruit.

Non-Alcoholic
Water
Strong, unsweetened green tea (also with matcha and/or jasmine)
Strong, unsweetened earl gray tea
Strong, unsweetened, non-instant coffee
Rockstar Energy Cola
Redbull Energy Cola
Orange juice (not orange-flavored drink)
Watermelon slush

Alcoholic
Long Island iced tea
Rum and coke
Midori sour
Screwdriver
Sex on the beach
Sake
Soju
Dark wines
Shots of anything other than tequila or beer (hate those)
Most martinis (girly but good)
Water
Green Tea
Apple Cider Vinegar
That's all I need
SoulKanon
Apple juice and orange juice!


Water
Vitamin Water XXX
Strawberry Milk (Or Shake)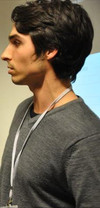 Bought a pack of Capri Suns today for nostalgia's sake.

Those were awesome back in elementary school.

Apparently they're still awesome today.
bemused_Bohemian
Used to be Creme Brulee coffee but I got tired of staying jazzed 20 hours a day. Lately it's been another coffee blend called Sinless Pastry. Sells as a bean for about $9/lb but entails a 200 mile drive to get which with gas where it's at per gallon lately this variety hasn't been tried lately. Coffee, no matter who imports it.
Crimson_Prophet
kiwi strawberry snapple.

Lemonade.

Jack and coke. >.>
mozychan
2/3 Calpis Water (a.k.a. Calpico in the U.S.) + 1/3 Melon Soda > Melon Cream Soda
Oolong tea, green tea, hot chocolate, coffee and water. I love my caffeine.
water, wouldn't be able to survive without it......
Nehi. It's peach soda, if you're unfamiliar.
bemused_Bohemian
If it can be filtered: Mississippi River water, preferably gathered north of St. Louis. Drowned cows or suicides sure ruin the taste otherwise.