All kinds of tea... There are few things as soothing to the mind.
xgp15a-ii
Plain water, no ice -- all of the time, 8+ glasses per day.

When I'm feeling social and am out, Yuengling Traditional Lager. When I am feeling very social and I'm out, with no need to drive, Long Island Iced Tea in copious amounts. When I'm out with polite company, Kendall Jackson Chardonnay.
noodle7
Coffee as black as the devils hooves. Followed closely by ice cold beer.
Queen Moderator
LainZero
Orange Soda,
Tasty Water (Flavored with limes)
Cherry Coke
Bubble tea
I generally prefer water.
If not, then vanilla soy milk; green tea with honey; or Vanilla Coke a Cola.
iced black coffee of course

Xmas_Hat
red bull addict right here
Homemade Lime Sherbert Punch
hawkenwatt
1) Monster
2) Water
3) Dr. Pepper
coke, banana juice, orange crush,etc.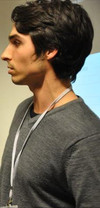 A simple Coke with a good amount of ice is always a classic refreshment.