Zarathustra
GW2 popular as hell but its one of the most boring and overrated piles of crap to come out in the video game world.
Zone4 and other Free to play But Pay to win games.
Every single RPG I've played at one point or another. I love RPGs though, but it doesn't mean that it doesn't get on my nerves every once in a while.
ANGRY MOTHERFUCKIN BIRDS!
Any and all Facebook games. I don't have Facebook, but my roommate does and watching her play those apps is aggrvating. They're all so trite and stupid. Actually, all online games are for that matter.

Oh, and Angry Birds.
i hate truth or dare. because whenever someone wants to play with me, they want me to spew the truth about something. and then i pick dare, but then they say, "i dare you to tell me the truth about..." so basically, the truth is unavoidable.
and that's why i hate that game.
all the sims games.. why? because i spent a load of money on them only to be addicted and never play them again after the next one came out -.-"
sports video games, same shit every year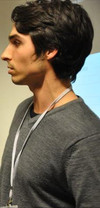 Now that I think about it, most new games these days annoy me. And by that, I mean the way they are currently set up.

It used to be that if you spent your hard-earned money on a game, you could play its entirety from beginning to end with access to the same resources and content as everyone else.

But now, it's like you spend more money for only half the content, and to unlock the whole game with all the weapons, characters, levels, etc. you have to spend more money on DLC.
IHav2Fart
DIABLO 3!!! THEY EFFED IT UP! BRING THE ARENA NET DEVS BACK!
what games have intentional bugs???
Sonic the Hedgehog 2006

This game is like a huge glitch.

You get stuck to things if you run into them, cameras are horrid, and no auto-save.

I just. I can't. I simply cannot.
Any game that is so full of complicated and useless mechanics and little things that you aren't able to manage them all. And FPS games. They all look the same to me. The only differences are graphics and how fast and how accurately holes appear on whatever you're pointing at.