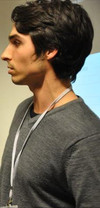 I wish I could look back to the women I dated and point to one of them and say, "this was the real thing...this had SUBSTANCE."

Sadly, most of them were created out of mutual convenience, or pure attraction, then fizzled pretty quickly, and some cases, horribly.

For some odd reason I am drawn to women who are no good for me...
Fliegar
Only one, serious relationship that lasted a few years. To date it has been one of the only relationships I can look at and really say that I am glad I had met them. I love it when someone enters your life and ends up changing you for the better. Not forcibly, but because you want to better yourself.

It was a damn amazing relationship while it lasted, though I wish it didn't have to end.
MissTayee
Ive dated 5 guys.
1) 2 week. Was a freshman is high school
2) 2 months. He turned out to be kinda psycho and manipulated me. I broke it off. (HS)
3) 6 months. This was the best relationship I've had. (HS)
4) 1 month. He wasnt ready for a Gf and would rather play WoW.( In college)
5) 3 month. God. He was soo clingy. I broke it off. (in college)
3 Girls, all of them were one sided on her side. I'm an ass.
One and only. I'm gonna marry him.
xAlseif
One serious and a few flings. I'm too picky.
all in all I've had

3 real life and 4 online.

all ended down the drain :3
None. I want to wait because I like my single life right now.
Real ones....3?

I try to have long-lasting relationships, I really do. But the circumstances do not favor me.
Jraine11
Eugh. I've been with... erm...

It's kind of embarrassing to say but 9 proper ones and several more flings. I'm not good at relationships and I don't mean for them to go bad, I'm just bad at committing.
2.

One was a clingy, possessive, forceful, immature brat. The other one was possessive and a major cheater.
I have to get this out. How the hell would you date online? You don't know the bloody person.I could never trust nor want to date some random fruitloop on the internet, how you guys do it, is beyond me..
i had no girlfriends until now , because i´m shy and reserved and don´t go out much
what the
eff
was that opening post about? LOL
i've had two legit girlfriends.
...had loads of fun w/ the second one
More than I can keep up with.