dwadewade
Had some fried snake skin in Korea it was really good
That would be Crocodile steak, it was really juicy and pretty good =D
entropiCCycles
Well, I saw some one mention Ostrich earlier, but nobody seems to have mention Emu just yet.
And I guess I shouldn't be surprised that Alligator is so common thus far.

(Yes, I have eaten both Emu and Alligator before, though I wouldn't necessarily call those "exotic".)
Frog, and i dont even know that its a frog,it tasted like chicken though..heheh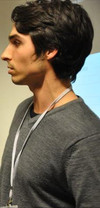 Hmm, off the top of my head:

- venison (deer)
- frog (some Thai place had it)
- sea urchin (Japanese sushi bar)
I think the weirdest animal I've eaten is alligator
It's THE BEST fried! Whenever I get to Houston, which has a place that makes it, I almost always get it!
jer5500
deer, alligator, frog legs, rattle snake (powder tasted like shrimp powder) rabbit and wild rabbit, turtle soup, turtle eggs, ostrish egg omelette, ox tail, snails, the tequila worm straight from the bottle and some more at a restaurant in mexico city. probably cat or dogs at a mexico city food cart. shark steak, tuna steak, buffalo steak,
Well, damn. I waltzed over here thinking I was just a tad bit special for eating alligator (New Orleans), rabbit (New Orleans), and boiled duck fetus straight from the egg (balut=Filipino). The last one was actually delicious, but way too disturbing to attempt eating it again.
funnyginsan
Snake - snales - and a lot of different parts of a cow including the tongue.

ohh and gator when I was in New Orleans briefly.
Braaiiinnsss. pig brain. lol
I had to eat a live goldfish during a pledge initiation


I ate Friend Cow Intestines...
I didnt know what it was, My uncle them was like its good try it!
It was pretty legit, But i cant eat it knowing what it is...