RavingDragon
wild boar and baby octopus
DeviantBehavior
I've eaten from a taco cart in Mexico so who knows. But I have eaten gator, rattlesnake, snails, frog legs, ostrich, bison, havalina, and chocolate covered grasshoppers.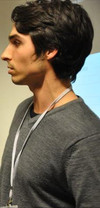 Wow, you guys put me to shame.
And here I thought venison was exotic.
Jelly fish. I was sick for days.
Rattlesnake. I've never really used the saying "taste like chicken!" until I've eaten this. The texture is definitely different, though.
frog, alligator, snake....
a Dragon, a Sphinx, a Unicorn, a Griffin, a Kraken, a Chimera, a Minotaur, a Centaur and a mermaid, nothing out of the ordinary really.
Whatever the mystery meat is inside of wonton soup... which I never eat, I just eat the noodle around the meat... and leave the animal. I'm a vegetarian, so that is the closest I have come to eating an exotic animal
Bird spit soup. It's actually very nice.
this chic I met in Amsterdam