i used to in elementary and middle school.
now i just don't care.
Yeah. I wish I was more invisible. Ninjas kick ass.
Everyday In My Life. Always A Moment When Youre By Yourself!
No, but i wish i did. People i dont even know say hi to me when i walk by @.@ Maybe i wont be on council next year.
yeah :/ there were a few times where teachers thought i was absent from school and i was sitting right there in front of her = =
it usually just happens with me and this other guy in my class.. we're one of the quieter students in class.
Rajyrr
I'm Reptile
!
I'm fucking INVISIBLE
!
Ahh, if only .. people notice my presence plenty. They either become irritated by said presence, or break into a casual conversation with me like I'm the boss of the universe.
There are times. However if you do feel lonely at times or not noticed, sometimes it's your own fault for not doing anything about it.
Yeah,
Inside my office i have that ability while working. People or the staff will not pay attention on me and just do their respective working description. Even my secretary, do not go to my office and offers me a cup of coffee or tea maybe. Funny, when i start pressing the intercom or when i open my super glass clear tick door they all stare at me like hungry zombies and then i feel bad for i am that cruel
Nah, I'm pretty clumsy, they'll find out with my loud footsteps and knocking over everything. But while we're on the topic of invisibility, they're are instances where I try to become invisible, particularly in classes of which I don't like anyone, aka most classes. (I think everyone does that though, or they be proactive and make some friends)
Willwatch4food
I choose to be invisable, since pretty much everyone at my school is a bigot, racist or hick. Oh well, thats Texas for you. I do have a good amount of friends, but they are all either in Theatre or chess club, and I am rarely in classes with any of those people for some reason. So pretty much all day exept lunch and after school on club days I am invisable.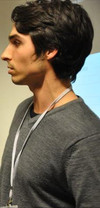 No. If anything, most of the time I feel like I'm under too much scrutiny and observation.
Very Rarely. Pretty much to the point I had to train myself to remember that most folks are likely more concerned with themselves to overly notice anything about me. That took awhile but was way worth it.
There was one time, when I went on a French trip with my class and I was stood behind my 2 best friends and I was trying to talk to them and one of them just ignored me. I felt like I was really invisible untill I threw a tantrum. Then she noticed me lol