Profile
Title: 빅 / Big
Genre: Fantasy, Romance, Comedy
Episodes: 16
Broadcast network: KBS2
Broadcast period: 2012-June-04 to 2012-July-24
Air time: Monday & Tuesday 21:55
Director: Ji Byung-Hyun (Drama Special - Behind the Scenes of the Seokyeong Sports Council Reform~2011, Drama Special - Strawberry Ice Cream~2011, Glad to Love You~2010, Hot Blood~2009, Land of wind~2008, Sassy Girl, Chun-hyang~2005)
Writer: Hong Jeong-Eun, Hong Mi-Ran (Delightful Girl Chun-hyang~2005, My Girl~2005-06, Fantasy Couple~2006, Hong Gil Dong~2008, You're Beautiful~2009, My Girlfriend Is a Gumiho~2010, Best Love~2011)

Plot
18 years old Kang Kyung Joon (Shin Won Ho)'s spirit suddenly becomes transplanted in the body of 30 years old Seo Yoon Jae (Gong Yoo). Seo Yoon Jae is a successful doctor and engaged to high school teacher Gil Da Ran (Lee Min Jung). Gil Da Ran just so happens to be the teacher of 18 years old Kang Kyung Joon.

Jang Ma Ri (Bae Suzy) is a girl who love Kang Kyung Joon (Shin Won Ho) and try any effort to escape Kang Kyung Joon's spirit from Seo Yoon Jae's body.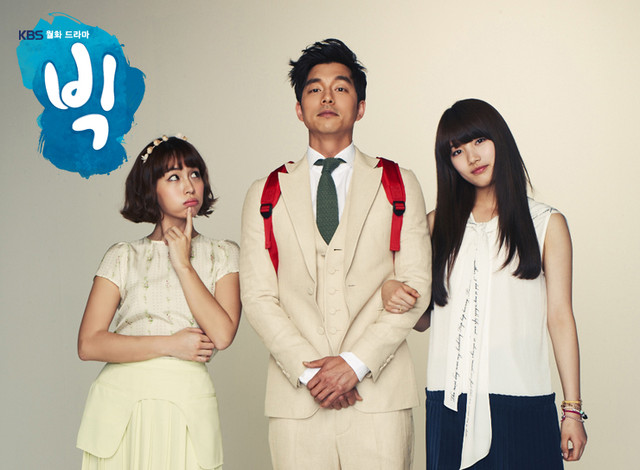 Notes
1."Big" takes over the KBS2 Mon & Tue 21:55 time slot previously occupied by "Love Rain".
2.First script reading took place on April 14, 2012 at the KBS Annex building. Screenwriters Hong Jeong-Eun and Hong Mi-Ran, plus cast members Gong Yoo, Lee Min-Jung & Jang Hee-Jin all took part. Singer/actress Bae Suzy also attended to say hi to the other cast members, even though she is on vacation and will not appear until episode 3.
3.Filming first took place at a hospital in Gyeonggi-do, South Korea. The scene involved 18-year-old high school student Kang Gyung-Joon (Gong Yoo) first discovering his spirit has been transported into doctor Seo Yoon-Jae (Gong Yoo).
Main Cast
Gong Yoo as Seo Yoon Jae

Lee Min Jung as Gil Da Ran

Bae Suzy as Jang Ma Ri

Jang Hee Jin as Lee Se Young

Shin Won Ho as Kang Kyung Joon

Jang Hyun Sung as Kang Hyuk Soo

Supporting Cast


Go Soo Hee as Lee Gyung Mi

Ahn Suk Hwan as Gil Min Gyu

Yoon Hae Young as Lee Jung Hye

Baek Sung Hyun as Gil Choong Sik

Moon Ji Yoon as Na Hyo Sang
Choi Ran as Kim Yeong Ok
Shin Ji Soo as Lee Ae Kyung
Lee Hee jin (cameo)
http://www.koreandrama.org/?p=18445
Spoiler Alert! Click to show or hide