Banned
That's happened to me a lot since my computer crashes randomly. It's incredibly frustrating and makes me want to smack the keyboard.
That's thee reason why i dont have a tablet anymore, once I was working so hard on a gay page I was dying to do, and I just was working on it so hard, It took lots of time, and While i was drawing thee screen went all black, I got frozen then I realized "I got fucked" then I did what anyone would do normally after working so hard on a piece of shit, broke my tablet
In senior year I had this important English essay due the next day. I printed it and turned it in the next day. Then I had to do some revisions to present it in group. When I checked my usb, more than half of the essay wasn't there. That's when I knew I didn't save it and had to retype it. T.T
papagolfwhiskey
Backups.

always have backups. always keep your initial rough work.
I just start over again. Happens every now and then, I'm used to it now. -sigh-
I usually save it while working though, just in case..
lol i hate when this happens to me!!-__________- i usually go into these stages !!

There called

The Sound Emotional Stages!!XD:

1st: is the No way that did not just happen(denial stage)

2nd: comes the Omg omg omg No no ur not doing this to me stage,(acceptance) ,after is the : Come on computer please work for me ill will be nice ill never type hard again or get angry with u(the coxing stage) and if that doesnt work !!I just get angry with it! saying Srsly why why u stupid piece of crap see thats why i hate this computer!then walk away*(my angry/depressed mood) and lastly comes my (regret for wasting time and not starting it again followed by fustration!!)XD lol Yup those are my stages!!!

this happened to me when i had a midterm exam to hand in omg was i pissed i had just finished in around 1:00 am (*ho ho ho i waited till the last minute! yup thats how i roll!Oh yeah!XD) in the morning when my laptop froze and crashed! i was in shock and i had to retype everything i had no saved info so i had to rethink and find the info i had. *tear* i wasted my valuable sleep*hahaha!! but at least i got a good grade!Muwahahaha!! i totally typed random crap at the end of my essay !XD i was to sleepy to even care!!im amazing!>‿‿◕
Spoiler Alert! Click to show or hide
I like your avi! haha
Ash_rawr
wrote
:
sound
wrote
:
Hahahaha!kuku thanks u very much!!XD*does ur ghost avii face* i like urs too!!
It's so sad when you have to waste your valuable sleep
Atleast you have a dancing lamp(?) Avi :3
Ahhh u understand me !!*hugs u*XD Lol!! thats true with my lamp nothing is impossible!muwahaha!!
Doing essay in the cafeteria in college. Did something like 8 pages. Essay due in next period. Electrical fluctuation. Anger. Red. Dead friend beside me.
Wouldn't be the first time. BUT! Depending on if it was a labor of love or a rare moment of genius, seriously I've rage cried over things like that.
happened to me often. I just tell myself fml. And then tell myself that without these small problems, I wouldnt enjoy my beer as much at the end of the week
justinitsu
I always macro a quicksave button. Always.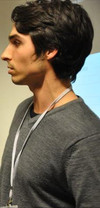 I get paranoid about stuff like this. I back up stuff everywhere. On my computer, on an external hard drive, on a USB, online, through email, etc.

I've heard horror stories of grad students losing their entire dissertations and research papers. At that point I think I would just kill myself.