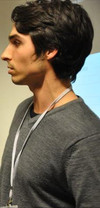 Definitely Batman. He's all that I would want to embody and stand for.

Matter eater lad. Because then I could eat matter...oh wait...
Quip away, my friend. Quip. Away.
ssjwes1980
I used to say Goku cause I always thought Goku could kick Supermans butt until I read up on Superman Prime.

Superman Prime is the second most powerful being that has ever existed in the DC multiverse only surpassed by The Presence(creator of the DC univers). He has acquired countless powers and abilities from his travels and lineage that allow him to do almost anything he wishes, which range from teleportation to the manipulation of magic and warping reality. He can manipulate time, space, matter, and bend reality on almost any scale he wishes.

Immunity- Superman Prime is imune to magic, kryptonite, lightning, mental manipulation, ect.

Creation - Superman Prime is able to create lifeforms out of nothing.

Resurrection - Superman Prime can resurrect the dead and himself.

Omniscience - Superman Prime has possibly learned everything in his time in the sun. (10's of thousands of years)

Omnipotence - Superman Prime has near limitless abilties as far as we can see.

Omnipresent - Superman Prime can be any where at any time.

All Kryptonian powers under a Yellow Sun. All of his Kryptonian powers are enhanced.

Godlike Super strength - His strength is limitless, he is capable of lifting his own multi-verse.

Godlike Super speed - His speed is incomprehensible to even the abstract beings (cosmic beings).

Godlike Super Senses

Godlike Xray vision - He can see through any solid object, with no exceptions.

Godlike Heat vision - A million times hotter than the center of the sun.

Godlike Super Stamina/Endurance - Capable of surviving the end of the Multiverse.

Godlike Invulnerability - Capable of surviving the end of the Multiverse.

Godlike Super Hearing - Cosmic Awareness.

Immortality - Superman Prime, will live until the end of Reality.

I pick Superman Prime cause hes just waaaaaay over powered.
blindavid
To avoid being to generic I will go with Hei from Darker than Black, otherwise I would mash Batman with the Green Lantern.
I would wanna be Tor, cos im Norwegian and i've always kinda liked him :D
Deadpool, he has comic awareness so I guess I would know the what really is life
The Batman.

Dammit! This looks so cliche now that so many people have already picked him.

I pick Batman because he's probably the most powerful superhero in the DC universe. Ha, I must be mad... But seriously. Most superheroes have one response when suddenly facing a powerful enemy, they simply throw more shit at them. But not Batman. The more powerful his enemy the calmer, the more calculated and the more precise he becomes. Many people think that batman's superpower is his mental abilities but he's not a Darwin or an Einstein, else what would Lucius Fox be for. In my opinion, Batman's real superpower is his ability to manage whatever power he has at his disposal.
bhl88
if i would be a superhero why do i have to be someone else if i can be my own original superhero?...
i would be a hero that has magical power, super strength and good fighting skills...
yeah yeah i know that i'm kinda selfish and too much but come on... superhero is supposed to be SUPER... not just they have power or extra skills or something special... they should be super-hero...
and i'm sure to hell that this is the reason why if god will give powers to humans.. he will never choose or let me have one even i beg him to death....