Tim_The_Enchanter
only if i have some music playing and nobody else is home
Always. I usually play something like Gackt, D'espairsRay or other good J-artists when I'm in the mood to,

or I'll just have my phone's music setting hooked up to some speakers on shuffle. It's always fun.
I have the most angelic voice. EVER.
Yes. Mostly disney. Im hated by all in my house hold for it.
I used to, but that was when I listened to screamo and hardcore metal, so I used to scream in the shower is more like it. Now not so much.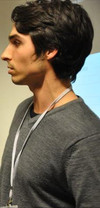 Singing in the shower when your voice is bouncing off those tiles is the place where you'll sound the most amazing.
etoile55
wrote
:
-chemicalgirl-x-
wrote
:
I put the radio on when I'm in the shower up really loud and sing along to every song~!!!! xx
We have a radio in our bathroom?
No~!!!! Outside~!!!!! xx
Almost every morning, yes.
It makes showering fun.
Yes, all the time.
I generally like to put my songs on shuffle - generally CN Blue, BtoB, DBSK and Block B songs play.
yep. a professional bathroom singer.
Spoiler Alert! Click to show or hide
Not too often.
But I do hum a small tune as I wash my hair.