I have played this game so much it has become a part of who I am. So many fun times shared with friends over so many years. If the worlds ever went down, it would be a very sad day. However, it is not one of my favourite games anymore. These past few years Jagex have pissed me off by releasing cosmetic items that you can only acquire through currency, lax rule enforcement and by recently destroying how the game plays with the evolution of combat. I only play the new ports minigame for a couple minutes a day because that is how you get the best armour in the game now.
Coyotess
On and off for 7 years now. -.-
It is definitely not as good as it used to be.
And the combat blows now.

Though i still have friends who play, ill get on occasionally solely for the fact that it was the first MMO i have played.
OH gawd runescape..... I have 13 99s..... I had 650m... over 150 days of gameplay... I quit a while back gave away all my gold ... and will never log back in ever again.. I also I have 4 accounts all with a 99 on them that's how much I loved runescape.... But that game is the devil of all games... I hate it now and will never ever play again
Pretty much got boring all they think about is money.
Played it since '04, however I've been off and on for it. Really long periods of time at one point, then suddenly stopped.

I guess I've moved onto greener pastures...
so what do you guys think of the 2007 servers that might come?
Currently on Runescape there is a vote to bring back the 2007 servers. However the Vote is highly rigged. The rs admins says there 8 mill active players. And that we could easily hit 750k votes. Truth is i highly doubt there's even a mill members. Let alone active ones. As for 8 mill players I bet at least 6 million of them are secondary accounts. With over 500k being bots. I do hope the vote hits at least the 500k mark though i doubt that would be enough for me to subscribe. Also RS is a very sloppy game now days. The devs are clueless when it comes to optimization. And making a decent hit detection system. By the way I checked the old servers out at my friends place his old pc that normally play rs with eoc at 15-20fps in combat. Was getting 30-45fps in combat at the same spot playing on old server. That's how bad the updates made the game over the years. Instead of rewritten the code they just pile more code on top of it. And eoc is garbage.

Runescape has the potential to be the best mmorpg in the world. Especially when the html 5 engine is complete. Most mmorpg you grind to max level do some pvp and the games over. Nothing to do at all. Runescape skill system is amazing. Wood cut some wood to make a fire. To cook a fish you caught. Mine ore to smith weapons and armor for yourself. The system is smart. Though combat need massive improvement. Runescape skill system is light years away from any mmorpg I ever played and I maxed out in a ton of mmorpgs. Having the ability to do everything on your own is great. I have high hopes for html 5 version of runescape. Even though the company is bad. I wish they made a real game client. Or at the very least use unity. I think mmorpg's companies should be forced to watch Sword Art Online. Atleast then we can see a next gen mmorpg.
WOWWW THIS GAME BRINGS BACK SO MANY MEMORIES.. i started when i was like 8.. LOL quit when i was lvl 102
Lol I remember starting to play this when I was 11... got to level 93 at by age 16 and gave up after PvP was removed. Haven't been hooked up on a game that long, since
Can people even complete those quests?
ive been playing RS for too long... but every time i try to quit it sucks me back in after about 1-3 months...
MY two accounts after a few years.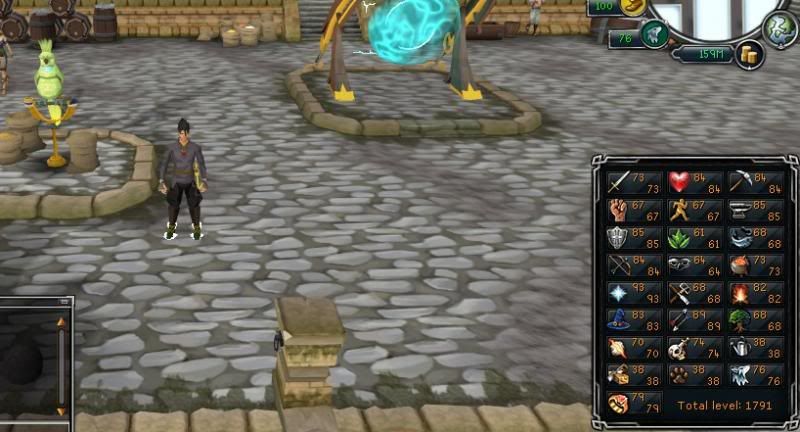 Alienshroom
I thought I might play again with the 2007 servers, i was just unable to.
Well, runescape used to be the big thing when MMO's were just popping up - I remember when runescape was like - best game ever status. I guess now it is easier to lose track of how fun it is because of what other people say.
"Ew Runescape is awful"
when actually the gameplay is pretty good still, the quests are fun, the people are merry
it's the graphics that i cant get over! I am a big graphics kind of person! xD