Rei4Shinji
Go to the movies ~~ If the rain is too bad then just stay and home and read a book^^
I actually like doing more stuff when it's raining!

Sunny days are the worst.. the terror demotivating weather burns the energy out of me..

BUT IN A RAINY DAY! I can DO ANYTHING! What I look to do? Use the stay in side excuse because it's raining.
I'm quite busy during rainy days. I Sleep. Eat. Sleep. Eat.
i actually like the rain when i not outside, i would say i watc an anime or chill with friends
I open the window and keep a flashlight with me when it's storming at night. I have the most horrific fear of the dark. Oh my gosh I shudder at the idea of not being able to see anything.

When it's casually raining I catch up on my anime, books, or play some Wii games. Preferably some Mario games. I love Mario Kart Wii~
drink coffee and stare outside the window
Lean on my side, with one arm resting on the window sill; looking outside half-open eyes. Wait till someone walks into my room. I'll do a dramatic stare at them and say, "The rain tonight, is crying." And then flick my hair as if I was Gackt.
Fapfapfapfapfapfapfapfap.....

>.>
<.<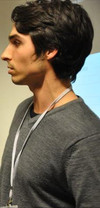 Read on the sofa or my bed, with a drink nearby and the sound of rain outside.

So goddamn soothing.
Stare out the window and think about things
Play video games, watch anime, or curl up in a blanket and stay warm.
i love it when it rains because it gives me an excuse to stay home and be lazy. i feel like i'm wasting my time or something when i lie around on a sunny day, so yeah i just use is as a scapegoat for my hermit tendencies
Stay inside and read, watch a movie, or take a nap.