In Real Life,

People with an aggressive persona.

People who only skate on the surface of life and have a habit of trying to belittle or negate the experiences and beliefs of others that differ from those of their small vantage point. and are fully convinced that their way of thinking is the only valid way of thinking.

On the internet

Hackers
People who become obsessed with me. This has happened several times already, you see.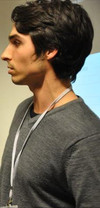 I am terrified of clingy, crazed, jealous women.
The only person i'm afraid of is one of my many other selves, he has a mind of his own and likes to torture me for his own self-pleasure, but don't get me wrong he isn't suicidal, he's my masochist personality and he scares the fuck out me.

P.s. Forget you read what was above please i dread him so much.
Dentists.. Not hygienists, nor orthodontists... Just dentists,the ones that tell you stuff about nerve hitting and facial control loss... And then at with you like you're 6 ...


psychopaths... that reminds me that upcoming anime Psycho-Pass im gonna watch it just to educate my fear of them more
yeah i could not imagine getting eaten alive by another human... scary shit...
akamarulover2
Slenderman
He scares the crap out of me