[Circumcision is not always performed because of religious/philosophical beliefs. Have you considered it in terms of health?]
there is no health benefits to circumcision. all supposed health benefits are flawed
[Circumcision is known to have a protective effect - it protects a male from potentially fatal diseases and from a variety of infections, as well as protecting their sexual partners. Keep in mind that sometimes, this procedure can be pain free.]
explain why Philipines and Bangladesh where most men are circumcised are seeing rising aids cases
New HIV infections and deaths from AIDS-related illness are falling worldwide, except in the Philippines and Bangladesh, where the number of new HIV cases continues to rise.
http://globalnation.inquirer.net/19229/hiv-infections-down-worldwide-up-in-philippines
Why are 70% of Aids Cases in Malaysia are muslims who circumcised for religious reasons
http://thestar.com.my/news/story.asp?file=/2010/6/9/nation/20100609151422&sec=nation
Why is the U.S.A has the highest rates of STDs(including AIDS/HIV) in the developed world?
did you know that Langerhans cells act as barrier to infection including HIV. these are found in foreskin, mouth and vagina walls
Scientists Discover 'Natural Barrier' to HIV
MONDAY, March 5 (HealthDay News) -- Researchers have discovered that cells in the mucosal lining of human genitalia produce a protein that "eats up" invading HIV -- possibly keeping the spread of the AIDS more contained than it might otherwise be.
Even more important, enhancing the activity of this protein, called Langerin, could be a potent new way to curtail the transmission of the virus that causes AIDS, the Dutch scientists added.\
http://news.healingwell.com/index.php?p=news1&id=602421
Langerhans cells have been observed in foreskin, vaginal, and oral mucosa of humans
http://en.wikipedia.org/wiki/Langerhans_cell
[Now what if you were to apply the same question to vaccinations? Are you willing to leave your child susceptible to fatal diseases/infections because a needle would make them cry for a few minutes? Admittedly it's to a much less extent, but the concept of short term pain for long term protection remains the same.]
vaccinations are MORE effective than chopping off the genitals of children and again why is circumcising America, muslim malaysia, philipines and bangladesh all seeing rising and high Aids cases? and don't you think it is odd that you live in the U.K where the majority of men and boys are NOT circumcised while adovcating this mutilation behavior?
[As with anything there are risks as well as benefits, but ultimately I'd leave it to the parents and individual to decide for themselves.
One last thing: What's not considered child abuse these days? ]
hacking the genitals of defenseless children is child abuse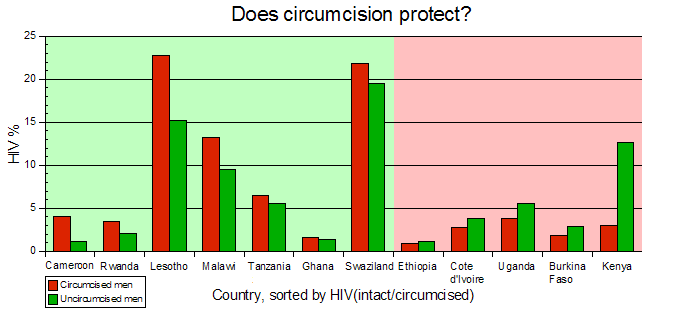 Male and female genitals develop from the same embryonic tissue and, as most people know, have corresponding parts.
Here are drawings showing how the parts correspond.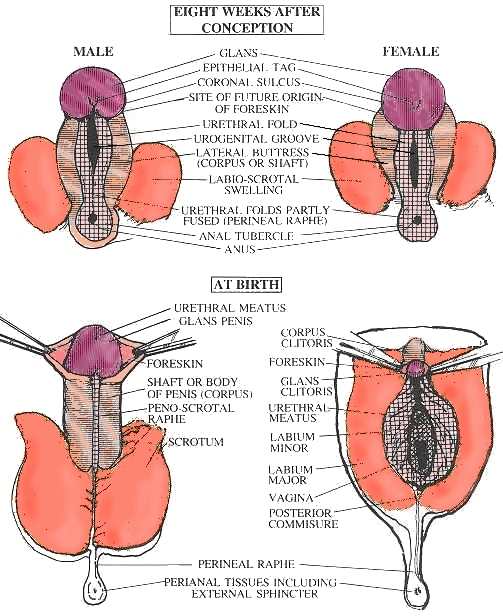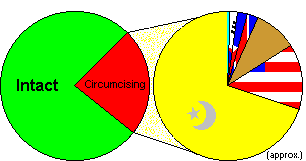 Intact
Virtually all: Chinese, Japanese, North Koreans, Vietnamese, Laotians, Cambodians, Burmese, Thais
Hindu, Sikh, Parsee and Christian Indians
Scandinavians
Zulus, Shona, certain other African nations
most Melanesian and some Western Polynesian (Rennell, Bellona) peoples,
The great majority of: Europeans
men of the former Soviet Union, Caribbean,
Central and South Americans
New Zealand Maori
Younger men of Britain and the Commonwealth, especially New Zealand and Australia
About half of: Malaysians (Hindu and Christian Tamils, Chinese and Orang Asli)
A significant minority of:
Americans, especially younger, Hispanic, and in the South West
Bangladeshis (20% are Hindu)
Cut
About 500,000,000 Muslims
More than 100,000,000 USAmericans
About 25,000,000 Filipinos
Some tens of millions of older men of Britain
and the Commonwealth
Some tens of millions of African tribesmen
About 14,000,000 South Koreans
7,000,000 Jews
Some hundreds of thousands of Central and Eastern Polynesians
(Samoa, Tahiti, Tonga, Niue, Tokelau)
and Melanesians (Fiji, Vanuatu, parts of Solomon Islands and small parts of PNG)
Some thousands of aboriginal Australians,
mainly in the north and west