The foreskin can also trap dirt and other particles leading to infection. It's a double edged sword. Pathogens can only enter the incision at a very early time, like I've said before. A month or so after circumcision the penis is fine and not prone to infection due to the incision. A dessicated or keratinized penis is not caused by circumcision, nor does it increase the chance of either of these, but is a problem due to improper hygiene or the side effect of an autoimmune problem or possibly an STD.
a woman's genitals also trap dirt and other particles that lead to infections . i and other uncircumcised men have no problem rolling back the foreskin and cleaning the area underneath and replacing the skin back to it's original position that only takes a few seconds.
care of the uncut male
http://www.cirp.org/library/hygiene/

When does the foreskin become retractable?

There is no "right" time for the foreskin to become retractable. Two things must happen before the foreskin becomes retractable and each usually takes many years.1

The fusion between the glans penis and the inner surface of the foreskin must become separate.
The narrow tip that prevents retraction must become large enough in diameter to permit retraction.

The time varies widely from individual to individual. Complete separation of the foreskin from the glans may not occur until after puberty.1 20 About 44 percent of boys have a fully retractable prepuce by age 10, by age 16, 90 percent, by age 18, 99 percent.1
Care before puberty

No special care is necessary.7 14

The infant male has a non-retractile self-cleaning foreskin. In most boys no preputial space exists because the foreskin is fused with the glans penis.7 The tip of the foreskin is flushed out several times a day by sterile urine. The protective functions of the foreskin work best if it is left alone and not disturbed.

Parents and caregivers should wash only the outside.7 10 No attempt should be made to retract the foreskin.10 14 15 "Leave it alone" is good advice.7 8 Only the child will know when his foreskin can be retracted without pain and trauma,10 so the first person to retract the foreskin should be the child himself.14 15 20

The foreskin protects the glans penis from the ammonia that is formed by chemical action in the diaper (nappie). One may see some redness of the foreskin from exposure to ammonia while an infant is still in diapers (nappies).15 Frequent diaper changes may prevent this. In severe cases, a protective barrier ointment may be necessary.16 20

In older boys the foreskin may be retractable. Older grammar school boys may be taught to retract their foreskin,7 14 20 rinse the area, and return the foreskin to its normal forward protective position.15 20 If the foreskin is non-retractile, there is no cause for concern. Only the outside needs to be washed.7 10

When visiting the doctor, the doctor should be instructed that the child's foreskin is not to be touched or retracted.10 Parents should remain with the child and physically protect the child from a possible forcible premature retraction by the physician.10
Care after puberty

If the foreskin has not been retractable before puberty, it usually becomes retractable when puberty is complete.1 7 10 15 20

The foreskin keeps the mucosal surfaces moist, emolliated, and maintains optimum health,10 while preventing drying, and keratinization of the mucosa.17 The sub-preputial moisture contains pathogen-fighting substances.17

Washing becomes more important for the sexually active adult male.7 15 After washing, the foreskin should be returned to its normal forward protective position.15 20 If the individual is a smoker, washing removes carcinogens that may be excreted in urine.13 Also, washing removes any accumulation of HPV, the viral carcinogen.
Excessive washing and the use of soap

Apparently, a few adult males wash under their foreskin quite frequently with the use of soap.12 We cannot define excessive washing, but over washing can deplete the natural oils from the mucosa of the inner lining of the foreskin that covers the glans penis.12 Depletion of natural oils causes non-specific dermatitis (NSD) that may be mistaken for balanoposthitis.12 Excessive washing and the use of soap generally should be avoided15 because it may cause balanoposthitis or yeast overgrowth. If soap is used, any residual soap should be rinsed away before the foreskin is returned to its forward protective position.
Penile hygiene for the adult male with a non-retractable foreskin

In one to two percent of males, the foreskin does not spontaneously become retractable. The swirling of the sterile urine under the foreskin usually keeps that area free of smegma buildup.2 Nevertheless, a non-retractile foreskin is listed as a risk factor for penile cancer in the adult male, apparently because removal of HPV and tobacco carcinogens may not be fully accomplished.12 Adult males who have a non-retractile foreskin (phimosis) should consider having their foreskin made retractable. See phimosis for options. Circumcision should be avoided because of pain, trauma, loss of erogenous tissue, and diminished erectile function. If desired, adult males with a non-retractile foreskin may irrigate and flush the sub-preputial cavity with a rubber bulb syringe. Some men healthily and happily live their entire lives with a non-retractile foreskin.15

A dessicated or keratinized penis is not caused by circumcision,
here are pictures showing circ on the left and uncircumcised to the right
notice the circumcised ones are rough looking and notice how dried up it looks
to the right is the naturally uncut notice how smooth the glands is.
warning not safe for work
http://4.bp.blogspot.com/-yVQUvFQapVE/TliZpff8l7I/AAAAAAAAB8U/6NLCxIWZmRQ/s640/cutintact02.jpg
1. circumcision is not crippling to the sexual function of a male.
2. There is no damage (reduce the value or usefulness of) caused to the sexual organ by circumcision.]
3. The penis is not perfect either uncircumcised or circumcised.
a recent study in Denmark show that circumcision reduce sexual pleasure another earlier study in New Zealand show that women with circumcised partners are less satisfied sexually, find it hard to reach orgasms and report higher incidents of vagina dryness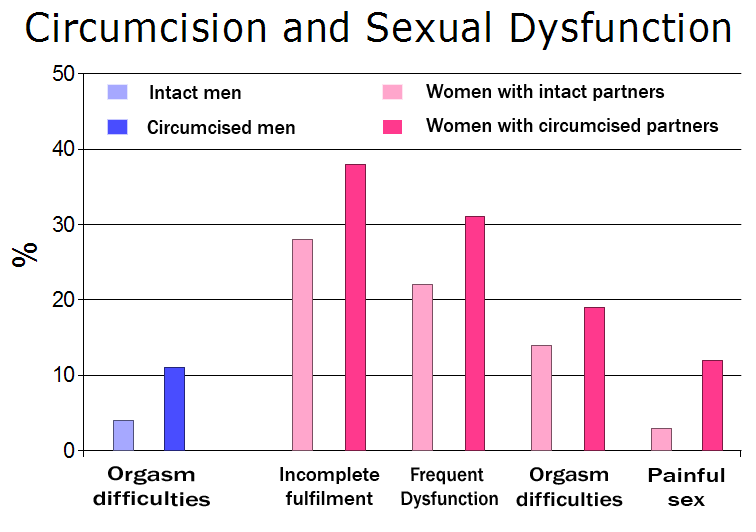 CONCLUSIONS:
Circumcision was associated with frequent orgasm difficulties in Danish men and with a range of frequent sexual difficulties in women, notably orgasm difficulties, dyspareunia and a sense of incomplete sexual needs fulfilment. Thorough examination of these matters in areas where male circumcision is more common is warranted.
http://www.ncbi.nlm.nih.gov/pubmed?term=21672947

No, not at all. Read the literature on why women should not be circumcised if you don't believe me, but it is an evident health issue with them. There is no "right" given to women and not men, it's not a law that circumcision must happen to a man in most countries. I'm not sure why it's such a personal issue with you, and I'm sorry if you were circumcised and hate it, but really, I don't think there is a huge problem with either like I first said.
it is hypocrisy for calling to cut men and not women and no
i am not circumcised
i am tired of reading the news and constantly see news stories with BS medical excuses for circumcision women are told to practice good hygiene, see a doctor when they get an infection, etc while men constantly told to cut their organs and dehumanized and censored by the pro-circ lobby when they object. the latest excuse is prostate cancer. women have issue with pro FGM groups and get angry when folks advocate FGM. I as a man have issues with male genital mutilation

was calling on the benefits of circumcision. In my first post I said I really don't care either way, because either option is valid. I took a stance in giving the benefits for it because you seem so militant and offended at the very idea of circumcision I was attempting to show you that it's not as terrible as you're saying, though it's not as helpful as it was once thought. I'm not asking people to get circumcised, and it's not really dehumanizing if you think about it. Castration? Yes, that's dehumanizing if someone is forced to be castrated, but I wouldn't go so far as to say that being circumcised is dehumanizing. I'm all for rights, so if there's some plight in your country that is forcing males to be circumcised, I'm all for you wanting to be able to no be circumcised if you or your parents choose it for you.
they are excuses and there are big business interests which benefits from infant male circumcisions
The $140-million foreskin
How San Diego biotech benefits from circumcision
http://www.sdcitybeat.com/sandiego/article-7356-the-$140-million-foreskin.html
http://www.sfgate.com/cgi-bin/article.cgi?f=/c/a/2011/07/17/EDVU1KAUOE.DTL

Health benefits aren't excuses, I'm not sure where you've found anything that has proven that circumcision does absolutely nothing. Circumcision has been going around since before the rise of Rome. I'm not sure where you're getting the whole "it started in 1860", but that's false information unless the article is saying it rose to popularity in Europe during that time or something along those lines. You can be militant about it if you want, but I'm just saying they both have pros and cons, and I was attempting to show you the benefits of circumcision opposed to not being circumcised.
yes they are excuses this has been going on in the last 100 years first it's masturbation, mental illness, penile cancer, cervical cancer, penile cancer. UTIs, HIV/STDs and now prostate cancer
and i said MEDICAL EXCUSES for circumcision started in the 1800s to stop boys from masturbating. for the last 140 years new excuses constantly popping up. do some research on the history of circumcision in the U.S.A
John Harvey Kellogg MD (1852-1943) publishes the first edition of "Plain facts for old and young: embracing the natural history and hygiene of organic life", in which child (but not infant) circumcision is promoted to "cure" masturbation.