because there is internet
tarakelly
when I get board I will turn on the news then get disgusted and turn it off
....can't even remember the last time ive watched tv........
I watch a lot of TV. Mostly old stuff like Good Times, All in the Family, etc. Also, any sports like baseball, hockey, or football and of course American Dad, Family Guy, and The Simpsons!

I also watch Crunchyroll, my anime DVDs, and about 2TB of anime on portable drives not to mention playing games on the Ps3 and watching Netflix!

I didn't watch hardly any TV while I was in college so once I no longer had to study and write papers I had an explosion of sorts!
Sometimes. . . Almost rarely
Scurre
Only reason why I even have a tv is the fact that its connected to my comp in dual screen for movies/anime!
Not really, I stop watching tv now. Tv is boring.
Keiek5
TV is awful now, no one should watch it. I take the shows I want to see and download/watch them online or buy the dvd sets.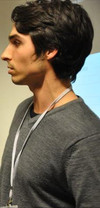 Yes, especially now that the NFL preseason has started.


I still watch tv but to only se this one show and when toonami is on. other than that, youtube, netflix, crunchyroll, etc.
SoTa_PoP
Nope, anime took over my visual entertainment completely.

Still watch sports tho.
I dont even own a tv. I only watch it when I visit my parents. everythings on the internet anyways.
I have one but haven't turned it on in forever. Not even sure it still works...